Jack B. Nimble (releasing Monday night)
---
Jack B. Nimble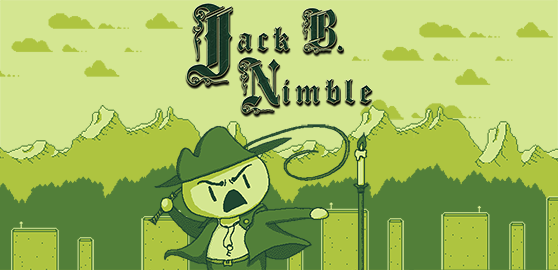 Jack B. Nimble is a fast-paced, reaction-heavy auto runner with a retro 8-bit/game boy aesthetic. I'm releasing on iOS on
Monday
night for $1.99 - no ads, no in app purchases, just game
I hear people generally choose Thursday to release, but I have a lot on so wouldn't be around to support the launch - so Monday it is!
...and if you wanna get in touch with me about the game, or anything really, just reply below or contact me directly on Twitter (@SeanNoonan). I also have a website with a bunch of my other games, here:
http://www.sean-noonan.com
Summary
Jump into the shoes of Jack B. Nimble and master the whip in this Game Boy styled autorunner.
Leap and dash across spooky hilltops, whipping candles as you go. Use tall grass to slow down and stay in control of the action, but remember to keep an eye out for trees! With an inventive score system based on player accuracy and distance travelled, timing is the key to achieving a position atop the scoreboard.
Latest video footage:
https://www.youtube.com/watch?v=64yqwVYuXLQ
Features
- A high speed side-scrolling endless runner
- Retro 8-bit / Game Boy visuals
- Single input control scheme - jump and whip!
- Thumping chip tune soundtrack by Barry "Epoch" Topping
- High score tables and achievements
History
Just shy of a year ago, there was a Game Boy game jam and Jack B. Nimble was my entry. I originally made it just shy of a week with audio support from my pal, Barry "Epoch" Topping. I later expanded the game by fixing a couple of bugs and improving a couple of the visual elements for a GameJolt release (which included working leaderboards).
Following a couple of comments on Twitter, GameJolt and a thread on TIG, I decided to make a full mobile release.
Other links
http://www.jackbnimblegame.com
http://sean-noonan.com/presskit/shee...=jack_b_nimble
http://www.facebook.com/JackB.Nimble
http://www.indiedb.com/games/jack-b-nimble
http://sean-noonan.tumblr.com/tagged/jackbnimble
Thanks for checking out my thread, and I hope you enjoy the game!
*Edit: not sure why my URL's aren't hyperlinks...
---
Last edited by Sean Noonan; 09-30-2014 at

08:27 PM

.