Sky track-back to the night sky of childhood
---
《Sky track》is a cool,addicted,challenging,simple game.
Ways of Playing Games
:While our finger touch the screen,the star will stop all actions and rotate around the point you are touching,while keeping there distance before,though you are already lift finger.Our mission is to make the star to collide the moon,it is somehow challenging.Please ask me anytime if you are not very understand.
The sound of crickets,the croaking of frogs...Is this game bring you back to the childhood night?
Oh,I forgot,the star have to avoid the constellation.Because mom said they are buildings in the sky.And if you finish the level with one touch,your score will be very very high!
The sky always have many moons in some levels,so you have to collide all of them.Feel challenging?
Pictures
:
Here are some sketch design,full edition of art work will come soon: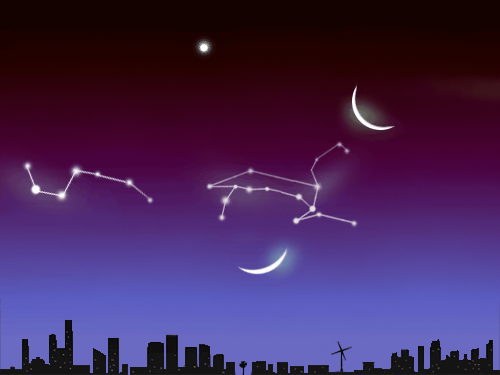 Other information
:Eight levels is ready for you,such as "moving obstacles""star door",and so on.I am working day and night to create more!Please wait for just several days.I just dare not to submit works that is not perfect enough.
I only create the game that we have never played!
---
Last edited by WANG HONGTAO; 10-18-2014 at

09:41 PM

.