Think Like Churchill (by Touch Press)
---

Think Like Churchill
Touch Press
Genres: Education Games Adventure Educational
$4.99 NZD
Quote:
Challenge yourself. Challenge your friends. Discover if you can Think Like Churchill.

This app lets you stand in the shoes of Winston Churchill as he faces some of the most difficult and challenging dilemmas in history. At the end of each scenario, your choice is dissected and analysed to help you understand how to become a better decision maker.

"The story of Winston Churchill's life shows that one man can make a difference. He wasn't always right, but his mixture of brains, brawn and guts enabled him to make difficult decisions quickly. This app takes you into his thinking process and helps to reveal the nature of his leadership genius. I have no doubt Churchill would be a man for apps of all kinds." — Boris Johnson, Mayor of London.

CAN YOU THINK LIKE CHURCHILL?
Each scenario will immerse you in a different pivotal moment in Churchill's life. Some dilemmas are personal, some are controversial and some helped shape the fate of the world. You will decide:
• Should Britain fight or negotiate with Germany?
• Should you press ahead with the Dardanelles campaign at Gallipoli?
• Should you risk death and recapture to escape from prison?
• Should you learn to fly?

Throughout the app you will have access to Churchill's own thoughts and writings, the advice of friends and colleagues, as well as rare archive material, including intelligence reports, private letters, telegraphs and briefing documents. Once you have made your decision, discover how closely it matches Churchill's.

"Churchill loved new technology and thought innovation led to change. This app is a way of reaching today's new decision-makers, whether gamers, leaders or entrepreneurs, and giving them a masterclass in Churchillian thinking as well as an appreciation of his legacy." — Randolph Churchill

FEATURES INCLUDE:
• Told in the style of a beautifully animated, thrilling graphic novel.
• 5 decisions to explore (with more to come) from different parts of Churchill's life.
• Expert psychological analysis to help you learn how to make better decisions.
• Narrated by Boris Johnson.
• Historically accurate stories.
• Featuring over 70 original documents from the Churchill archive, including secret intelligence, personal letters, telegraphs and unique photographs.

If you enjoy this app please consider leaving a review. It really helps!

To learn more about Think Like Churchill and its creators visit thinklikechurchill.com

Find out more about Touchpress at touchpress.com
Follow us on Twitter at twitter.com/touchpress
Find us on Facebook at facebook.com/touchpressapps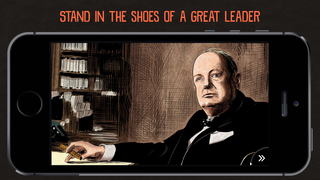 Supported Devices
:
iPhone5c
iPadFourthGen4G
iPad2Wifi
iPodTouchFifthGen
iPhone5
iPad23G
iPadFourthGen
iPadMini4G
iPadThirdGen4G
iPhone4S
iPadThirdGen
iPhone5s
iPhone4
iPadMini
Minimum iOS Version
: iOS 7.1
Download Size
: 489.9MB
---
Follow me on
Twitter
for all the latest iOS news. And sometimes more.