[FREE] Blow your Way
---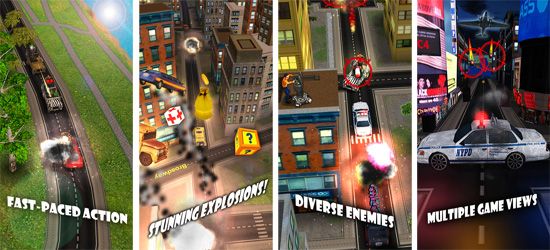 Challenge yourself, defend your cargo and snipe out of existence anything that stands in your way.
Blow Your Way is taking Tower Defense games to the next level making your defense objective travel thru the real streets of Manhattan. Players are to protect vehicle carrying money as it travels from point A to point B, but instead of directly controlling the car or anyone in it you'll snipe out of existence anything that stands in the vehicle's way or that tries to ram it to get the loot, using various types of weapons. If you start feeling overwhelmed you can drag special weapons onto the playing field such as landmines, bombs and even air strikes. Occasionally once you've reached your goal you'll have to fend off some crooks throwing various explosives at the vehicle.
Each main location is broken up into several sub-locations, and when you complete a sub-location you'll earn XP that lets you rank up and unlock new power ups to use.
The game scenery is map of real Manhattan with some of the physical real-world elements spawned into the game scene like Madison Square Garden, Time Square, Central Park, etc. Game is played thru different weather & time of day sensitive like Manhattan on a snowy night.
The game features social leaderboard where player can compete with Facebook friends in a weekly tournament, those players that earn most XP on a weekly basis can win prices of game virtual good. The game provides cool feature where Facebook competing friends can send "Trick or Treats" one to the other. Those trick or treats impact the current stage the player is player either helping me them finish stage or make those stages difficult to complete.
Game Features
** DRIVE through the real streets of Manhattan in a real-world 3D scene
** DEFEND your car from street-gangs trying to hit you and steal your money
** USE Cool and powerful explosives and special attacks
** COMPETE with your friends in weekly competitions to win cool prizes
** SEND your friend in-game Tricks or Treat to help them or make it more difficult for them to advance
** CHOOSE your car from a wide collection
** EXPERIENCE Manhattan in a snowy, rainy or sunny weather, day and night
** COLLECT ranks and experience points to beat your friends and get special in-game bonuses
Version: 1.1
Language: English
Compatibility: Requires iOS 5.1 or later. Compatible with iPhone, iPad, and iPod touch. This app is optimized for iPhone 5.
https://itunes.apple.com/app/id928925842
Download now!!