Match 3D THREE DAY MEGA SALE!
---
In celebration of our listing in the iTunes App Store's "New and Notable", we are running a sale on Match 3D Flick Puzzle.
Match 3D is on sale for 99 cents until Monday September 18th.
Link:
http://itunes.apple.com/WebObjects/MZStore.woa/wa/viewSoftware?id=324004403&mt=8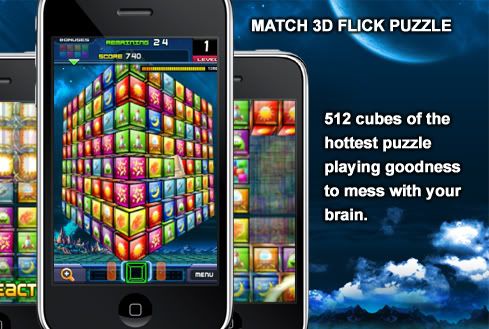 This is the chance to get a $3.99 game that has one of the highest ratings in the store.
Here's what the critics say about Match 3D
★★★★★ The bottom line is, this is a fantastic game! Anyone with casual gaming time will enjoy Match 3D Flick Puzzle. If you want to see how to take puzzle games to the next level check this one out! - GearDiary
★★★★★ Every single bit of Match3D's presentation it top-notch. The radial menus, touchable icons, and the 3D graphics are clean and colorful. - 4ColorRebellion
★★★★★ If you like Match 3 games you've got to check this out. It's not only twice as good as the others out there… It's 8 times better. I take that back… I was just using pure math for the joke. When you're moving the cube around trying to find your matches you'll see that it's a lot more than just 8 times better. Pick it up… and just try to put it down. - app[something I can't post here]
★★★★★ "This is an INCREDIBLE game!" - Lord Gek
---
A late game is only late until it ships. A bad game is bad until the end of time.

- Shigeru Miyamoto
---
Last edited by PlayScreen; 09-11-2009 at

01:16 PM

.