SpikeDislike 1 & 2 --> FREE! [Feb 23rd 2015]
---
Hold on to your Spikes, as it's about to get spiky in your iPhing!!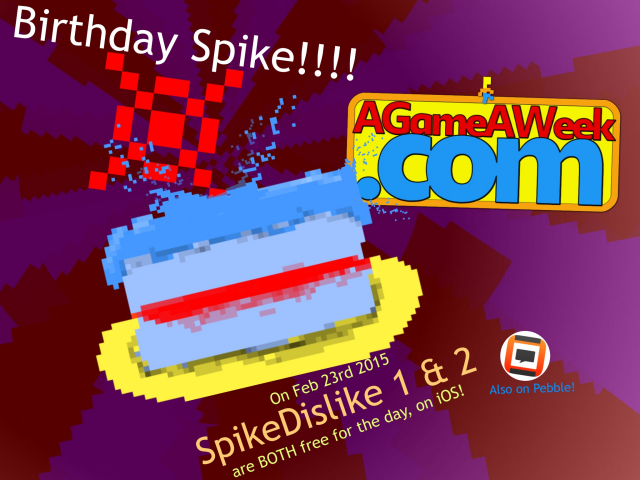 Tomorrow (As I write this) 23rd Feb 2015, both
SpikeDislike
and it's companion
SpikeDislike2
will be TOTALLY FREE on iOS!
Tomorrow's my birthday, and as has become a slight tradition, SpikeDislike is set free for the day. This'll be the first year that BOTH SpikeDislike 1 and 2 will be free at the same time, so if you haven't already nabbed them, now's the time to do it. (and/or tomorrow!!)
Scarily, this is the FIFTH year that I've made SpikeDislike free on my birthday.. Yikes! I'm getting seriously old!!!
If you'd like more from the wonderful world of AGameAWeek, and would like to contribute a little something towards my future games (SpikeDislike3!?!) consider grabbing the
AGameAWeek Monkey-X Bundle
, where you get all kinds of wonderful little games to play, all for a nice little low-low price!
Youtube link
|
Pop Up
Enjoy! And Dislike!
---
Creator of many many games. (Seriously, LOADS!)
I'm currently working on building a new iOS collection after Apple decided to delete all my old games. My
Daily Blog
will be helping to track my progress.
---
Last edited by Jayenkai; 02-22-2015 at

10:47 AM

. Reason: I HAS DERP'D