Death & Glory - Upcoming Gladiators Game -
---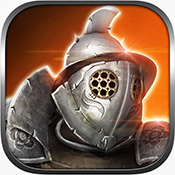 TEASER #1
INITIAL DECKS
Hi friends!!!
I am happy to introduce you the latest project I am working: DEATH & GLORY, a trading card game inspired in gladiators combats.
The game is in Work In Progress state, but I am working hard to show a playable version in the videogames event GAMELAB 2015 at the end of this month.
The game has a really simple gameplay mechanic based in a "Rock-Paper-Scissors" rules with some added improvements that can change the game suddenly.
The decks are based in different combat techniques like Sword+Shield, Two Swords , Axe, etc..., each one with basic, special and rare cards that will give you a lot of different ways of playing. Discover new cards to improve your deck winning combats.
Get more and more reputation with each combat (you get more reputation depending of how you play your cards) and follow your path to the next arena to kill all your opponents.
I will post here each new feature added and each new advance in the development.
I hope you like it friends.
Best Wishes!
Cards RE-DESIGNED:
MAP / LEVELS MENU
FIGHTING TECHNIQUE SELECTION
First people playing first playable version of Death & Glory in the international videogames event "Gamelab2015".
Really amazing feedback received and very very good acceptance of the game between the people!!
Best.
More and more people playing the game today.
And a big surprise, Davide Helgason CEO of Unity3D told me that tomorrow will check the game, I hope it!!!!
---
Last edited by MF3D_Dev; 07-10-2015 at

02:29 PM

.