Tweechi! The First Twitter Powered Virtual Pet
---
Hi guys,
Chris
from Fuzzy Face here. I'm really excited to show you what we've been working on for the last three years, we call him Tweechi! A virtual pet exclusive to the iPhone that is more advanced and interactive than any you've seen before and, most importantly, one that rewards you for doing well on Twitter!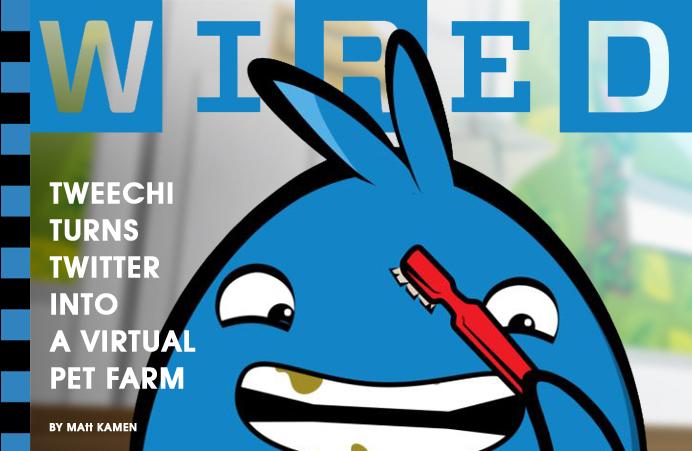 In Tweechi your retweets on Twitter (tweets of yours that get retweeted) earn you free currency, which we call Zips!
As
Wired reported
yesterday...
Quote:
Zips can then be spent to improve your Tweechi, buying it food or toys, and generally taking care of it to help it level up. Each level brings a booster pack of random goodies for the pet, and the chance to earn playable minigames. Fuzzy Face aims for it to be "the game you play for sixty seconds every day, perfect for a commute or to tinker with over your morning cereal".

The app will reward players daily based on their social activity from the day before. As Thomas explains: "Every day when you open Tweechi you get a letter through the door which, when opened with a tap, tells you how many retweets you got yesterday and then how many Zips they earned you. We wanted to recreate that excitement you felt as a kid opening birthday mail but have it be a treat you can have everyday."
There's so much more to it than just Twitter though and it is designed so that anyone can have fun regardless of whether you use social Networks. Check out the Wired piece for a more info and we'll happily answer questions here too (and of course any features you'd like to see added as updates).
Here are some screenshots so you can see how the game is coming along. If you're interested you can sign up for early adoption at
Tweechi.com
and we post the odd Vine of it in action on
Twitter
. We hope to have Tweechi ready for fall this year.
Thanks!
---
Last edited by Fuzzy Face Studios; 07-04-2015 at

03:27 AM

.