[iPad] Space Food Truck: A cooperative board game by One Man left
---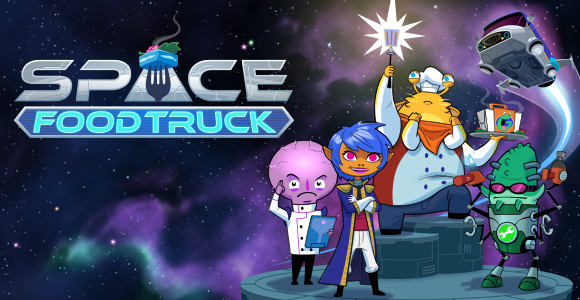 Hi Guys and Gals!
We wanted to announce that our latest game,
Space Food Truck
, is coming to iPad! For those that haven't heard of us around the TA community, we're responsible for the
Tilt to Live
series of games, and
Outwitters
, our iOS multiplayer strategy game.
What is Space Food Truck?
Space Food Truck is a tongue-in-cheek, cooperative digital board game. The core mechanic is deck building (not a CCG, everything is included "out of the box"), you and your crew are pitted against the procedural galaxy that is generated on each play through. You grab cards from the Zapmart at the end of every turn to try and build a stronger deck. Each turn you play cards from your hand to help complete objectives, mitigate crises, and craft recipes.

The captain
chooses which planets to visit and searches for exotic ingredients.
The chef's
job is chiefly to collect ingredients from other players and craft recipes.
The engineer's
job is to repair and upgrade the ship as you travel.
The scientist
researches your roles to unlock stronger cards for everyone, and to find artificial ingredients.
You spend the game hopping from planet to planet in search of ingredients, dealing with a variety of space hazards, upgrading your ship's engines, dodging asteroids, and yelling at your engineer because the door isn't fixed yet for that room you need to get to. If your team can craft each recipe and take them to the planets that crave them before your ship falls to pieces, you're victorious!
The game will be played 1-4 players locally or online. In the event you have less than 4 players, someone can play multiple roles. The game is still heavily in development at the moment, and we've launched our (first ever)
Kickstarter campaign
, so we can afford custom audio and buy an extra month or so of production/polish time. It's not nearly the entire budget for the game, just enough to give Space Food Truck a great chance at becoming an amazing game at launch! So if it's something you'd love to play on your ipad with friends and family, give our gameplay videos a look over and consider backing us.
Below are some work-in progress screenshots and videos of the game: