Toss Quest - a throwing-based action game (beta testers needed soon!)
---
Toss Quest DevLog
Hi everyone! I'd like to introduce a game that our team, Whale Cakes LLC, is working on. We are composed of 2 guys: an artist and a coder. Our game is called...

Toss Quest is a simple game about tossing and catching things. It plays similarly to an arcade shooter/bullet hell: the player controls their character on the bottom of the screen and is able to move back and forth. Enemies appear on the top of the screen, and the player must dodge their projectiles to avoid being hurt and ultimately defeated.
However, your character has no weapon of their own! No guns and no swords; they are totally unarmed. So how do you fight the enemies?
You have to catch their projectiles and throw them back at them!
Here are some examples of enemies you'll encounter: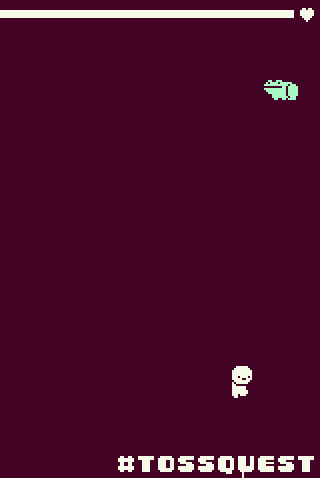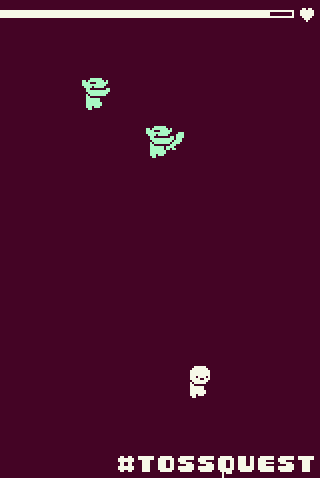 The
frog
, a terrifying foe, and
goblins
that throw orcish daggers that travel in strange paths.
Each enemy behaves differently, and they each have their own unique projectiles to throw at the player. Any projectile that the player catches and throws will behave the same for them as it did for the enemy that threw it, so stronger enemies with more dangerous projectiles will benefit the player in a way!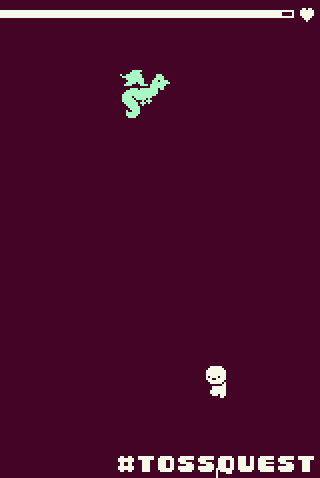 The
cockatrice
is able to paralyze the player with its Evil Eye, and other enemies can also inflict the character with status ailments! Some projectiles split into several others, like the
skeleton's
bone.
You may also find chests that contain unique projectiles not thrown by enemies. They typically have interesting special effects.

We're planning on implementing 2 different modes: story and arcade.
Story:
play through a series of pre-made levels, defeating waves of enemies and taking on fearsome bosses.
Arcade:
endless, randomly-generated waves of enemies for the player to defeat. The goal of arcade mode is to defeat as many enemies as you can and get as far as possible.
We may also add a special third mode!
One last feature that'll be in the game is the ability to change color schemes. There will be many different color schemes for the player to choose from, and some special ones to unlock by beating certain milestones in the game! The player will also be able to choose from several characters to play as.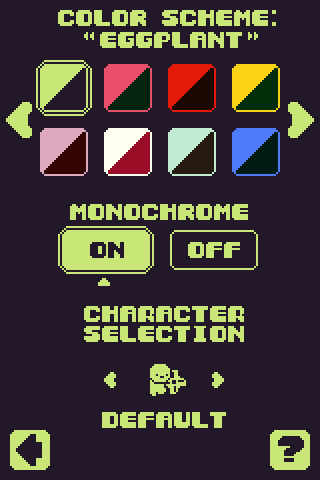 We plan on beginning beta testing for Toss Quest for iOS this summer, hopefully by August 12th (our coder's birthday!). Keep a lookout for any posts regarding recruitment of testers! We've been longtime followers of Touch Arcade and would love to get the community's feedback, and give members a chance to get a sneak peek at our game
We're about halfway done, with all enemy artwork done and a good deal of the enemy AI and projectiles added to the game. We'll update this thread with our development progress, so be sure to check back for updates! You can also check our twitter and tumblr accounts for updates as well
Coder's Twitter:
@admung
Coder's Tumblr:
dev.admung.com
Artist's Twitter:
@blabberf
Artist's Tumblr:
blabberf.whalecakes.com
---
Last edited by WhaleCakes; 07-21-2015 at

02:42 PM

.