eSports Tycoon: "GameDevStory" inspired Tycoon/SimRPG. Be a gaming tycoon!
---
Last few days left, help us reach our goal!
Back us on:
Indiegogo:
https://www.indiegogo.com/projects/e...4010591#/story
E-sports Tycoon is an addictive game where you manage & customize a gaming café that is exclusively owned by you. It is a Simulation Role Playing Game (RPG)/ tycoon game.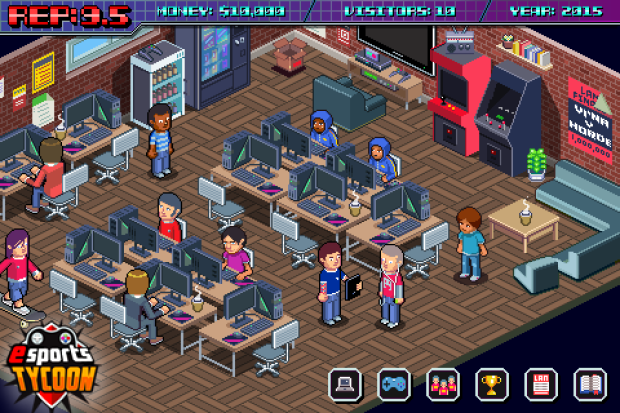 You get to play the role of a manager who not just hires gamers to play tournaments (amateur to pro-level) but also handle a cafe; equip it with the latest PCs, gaming consoles, arcade machine etc.
Quote:
If you loved Game Dev Story, then this is *the* game for you.
GAME FEATURES:
CAFE:
You own and manage a gaming cafe,upgrade your cafe and increase your reputation, increasing incoming gamers.
TECH:
Upgrade your tech with PCs, Consoles and Network. Keep up with the latest trends and meet your visitors requirements.
LOUNGE:
Buy fancy things for the lounge area like seating for PCs & Consoles, Snack Bar and Decorations like Posters Sets, Arcade Machines etc
MANAGER:
Hire talent from your gaming scout talented gamer by yourself or simply hire a manager to bring in the best gamers available.
SPONSORS:
Receive sponsorship to expand your cafe with more space for everything including hosting tournaments.
TEAMS:
Form a team by yourself or let your manager do the job for you. Form teams and participate in tournaments from around
the world. Make your team the No.1 team professionally.
TOURNAMENTS:
Visit or Participate in tournaments for any game genre. Make your team win the biggest gaming tournaments and be No.1 in world rankings.
HOST:
Host your own tournaments for any game genre. Host the biggest gaming tournament in the history of eSports.
---
Last edited by resurrectiongames; 08-24-2015 at

09:02 AM

.