[WIP-feedbackplz] Into The Wind -Zen Flowers (Causality/Singularity, 7 Pips)
---
Currently accepting a limited number of testers for Testflight beta testing. Interested Parties do Pm me your tf email address, or email to edmund (dot) ching (at) unexpect3rd (dot) com
[update 1 below: art style decided]
[update 2 below: new video added]
[update 3 below: app preview video added]
Hi guys, just want to share this. Feedbacks are most appreciated (esp from artists and designers!)[note: i am programming trained]
It's a game I've been working on when I'm not at my day job. The original intention of creating this game was to improve my animation and aesthetic skills. As a programmer, I can't draw if my life depended on it, so I choose the subject of "Flowers". With flowers, I was thinking "colorful" and thus I kept the gameplay down to earth with a match-3 mechanic.
Another objective was to see if I can create a game that you can "not play", like, just stare at it, and feel relax, alas, Zen Flowers.
Here you can see various stages of me trying to improve on the look and feel (not a great job really)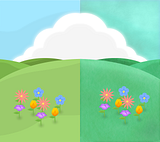 Here is a video of the gameplay, art style may still not be finalised and feedbacks are welcomed!
And here is a nearly two minutes long version featuring the Zen mode for you to ..... stare at, lol.
[UPDATE 1]
Art style decided
[UPDATE 2]
Day Night Cycle with the new art style and random generate star night
[UPDATE 3]
App preview to be used in the app store for the iPad
---
Last edited by unexpect3rd; 11-18-2015 at

12:47 AM

.