Ten Squared for iPhone and iPod touch
---
Hi there,
I'm the developer of Ten squared, a funny pastime for iPhone and iPod touch!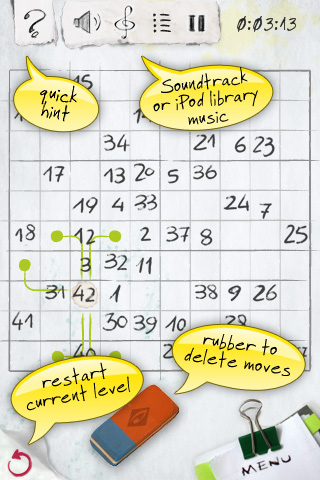 It's a logic game: starting from any box of the square you must find the path that enables you to fill all boxes using one of the available moves: knight move or bridge move. Knight move is the chess L-shape move, while with bridge move you place next number in the third box moving horizontally or vertically, or in the second box moving diagonally.
Anyone can play it and once completed you can find thousands of different solutions so that the game never finish.
Key features:
two different game modes: 'bridge move' mode and 'knight move' mode
six progressive game levels (from 5x5 to 10x10), up to 12 schemes to solve
autosave, not to lose a single move
choice of the tracks from iPod library to listen music while playing
rubber to delete moves and change path
hint function for next move
top ten with best results
shake to restart the game
I'm going to post some redeem codes in a few minutes: check out the free version and get back here soon!
You can see my finger playing it here:
http://www.youtube.com/watch?v=FSqd2uGGNTY
Full version ($ 0.99):
Lite version (free):
Bye,
Michele