Gopher 2, Part 1 - Retrospective is available
---
Hi there,
it's me again and after closing the case a few months ago there are still signs and wonders and my first game is available world wide:
GOPHER 2, a remake of an old game I played as a young boy 20 years ago on my dad's KC 85/3.
The game includes game play elements from Boulder Dash(R), which is a registered trademark of First Star Software, Inc. Copyright (C) 1984, 2009 First Star Software, Inc. All rights reserved.
It is published with permission from First Star Software, Inc.
To celebrate it, I decided to make the first Part of GOPHER 2 a Retrospective of the original GOPHER and give you the oportunity to try it with the Black & White Edition. Have fun.
GOPHER 2, Part 1 - Retrospective
- 230 levels (in eight different Cave Packs)
- a classic old school in game design
- an all new CAVE EDITOR to create your own levels
- controls designed after the original keyboard of an old KC85/3
- an automatic intelligent savegame mechanism
- replay caves without changing your savegames
- control the game by multitouch on the buttons or swipe from one button to another with one finger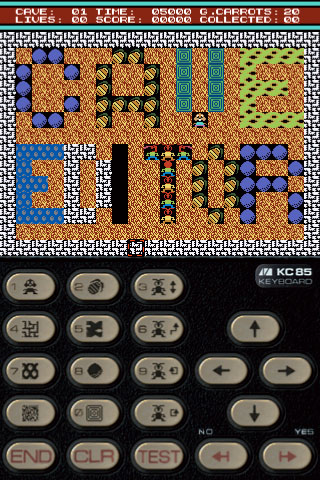 itms://itunes.apple.com/WebObjects/M...&mt=8&s=143441
GOPHER 2, Black & White Edition
- 4 Levels
- try the Cave Editor available in the full version
itms://itunes.apple.com/WebObjects/M...&mt=8&s=143441
Here are some old videos showing the gameplay and editor in more detail (they are from the original GOPHER):
Game Overview
Game Play Close Up
Editor Close Up
GOPHER was announced here:
http://forums.toucharcade.com/showthread.php?t=7756
have fun,
Silvio
SioSae Design
---
MY APPS: GOPHER 2 out now, Worldorama (soon), S*C* (later), ...
PLAYING: With my new born baby, no time for anything else
LISTENING: "Omen Reprise" The Prodigy, "Pinapple" TAFMC
MY iDEVICE: iPhone 3G S 32GB, White FW 3.0