[Beta] Unforgiving - Mini Speed Runner by Unexpect3rd Developments
---
[this space will be updated with more content]
The game should go live today (14 Apr). The status is "Ready For Sale" just crossing fingers it doesnt take too long to actually be live in the stores and I'll be in time to make the [NZ] post over the other forum :/
[UPDATE: 31Mar2016: App Preview Vid added]
[UPDATE: 15Mar2016: Unlockable Skins And Monetisation Decisions and new 4 minute video added]
[UPDATE: 10Feb2016: Controller Options implemented]
[UPDATE: 06Feb2016: New Video and Gif added to demo Replay Ghost]
To be a Beta Tester Please PM Me Your Testflight email, or send it to [support at unexpect3rd dot com]
I had been making puzzle games in the past. Relaxing, brain teasing puzzle games. This time, no more mister nice guy.
Unforgiving will consist of a large number of mini stages, 10-20 seconds to complete each stage if you are good, 10-20 attempts per stage if you are not. Run, Jump, Double Jump, Wall Hang, Wall Jump, no frills speedy platforming action. I aim to tweak for a very precise and tight controls.
Will be available for beta testing (via testflight) by the end of next week. Anyone interested to participate please PM me your email and leave a comment here. I will let you know when the beta build is up next week.
Monetisation Decisions
Although I have introduced unlockable skins (50 of them), they are unlocked by progressing through the game and mastering each stage. There is NO in-game currency to farm or grind, no timers, no energy, no pay-to-win. So i have two options, 1) I will just release the game as a paid game 2) I let it be free to download, with free access to 30% of the contents and have a single IAP to unlock the remaining 70%.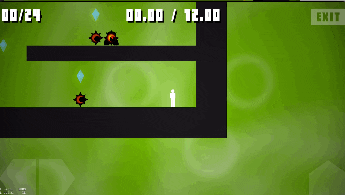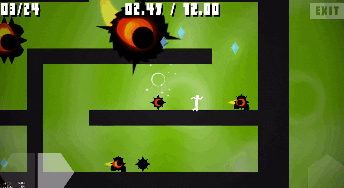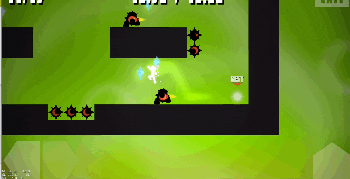 (i'll probably need to figure out a better gif maker, background seen here as been distorted by compression)
Video: Tutorial Stage Demo Run
Video: Demo Stage Run (With Obstacle Variety)
Video: Spirit Of Your Best (replay ghost)
Controller Options: Because size does matter
Unlockable Skins : Through Progress and Mastery, NOT in-game currency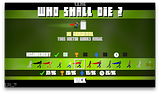 4 minute game play video showcasing various stages
---
Last edited by unexpect3rd; 04-13-2016 at

12:05 PM

.