MOSQUITO Maya edition - new APP store game
---
Hello,
I just finished and put my first game for Iphone/Itouch on app store
Thanks a lot for your help
Thierry
MOSQUITO Maya edition
itunes:
http://itunes.apple.com/WebObjects/MZStore.woa/wa/viewSoftware?id=331628015&mt=8
Visit the MOSQUITO Maya edition web site
http://titi083.free.fr
"Mosquito" is a fun and addictive game easy to play, that require self-control to kill all the mosquitoes
by using incredible weapons.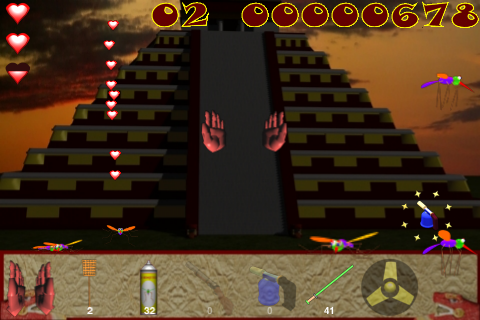 [GAME PLAY]
The action takes place across nice MAYA environments, and the mosquito force has grown more vicious than ever.
Mosquito is easy to play, just select the right weapon and tap your finger on mosquitoes, kill them all.
[Features]
- 7 "regulars" weapons
- 1 extra weapon
- 30 progressive stages, keep playing with special weapon and bonus
- Differents vicious Mosquitoes with their BOSS
- Automaticaly save game at the end of each stage
- Bonus and reward system according to speed and accuracy kills
- High score system with intermediate level's best score