Most Addictive Game on iPhone and iPod touch – iEscaping Free to Down
---
I believe most of you have ever played the "Most Addictive Game" on webpage. A red box is escaping from other four blue moving boxes. Do you remember? What's your highest score?
Now we transplanted the game to the iPhone and iPod touch platforms with the same game rules, but with a more appealing interface and good playability. In this game, you'll try all your best to control your spaceship so as to escape from the moving planets, which are randomly coming from all around the screen. Besides escaping the planets, you have to escape the map border, or you will lose.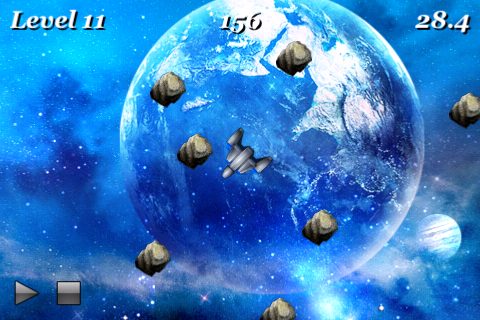 It has 18 levels in total instead of only one. The speed of spaceship, the number of planets or the lasting time will grow as the level grows. Obviously, the level will become more and more difficult to pass. However, the more level you pass, the higher your score. High scores will be stored in the record with your name. The movement of spaceship is smoothly controlled by acceleration system of iPhone or iPod touch, so you will get an extraordinary control experience while playing iEscaping.
Actually, iEcaping is more difficult to play than the Most Addictive Game. Because of its difficulty, I think the game is more addictive. Want to challenge it? Go to iTunes to get it FREE now.
Visit
http://iphone.sothink.com
for information.
Category: Game
Size: 1.9MB
Requirement: Requires iPhone 2.2.1 software update
iTunes Link:
http://itunes.apple.com/WebObjects/MZStore.woa/wa/viewSoftware?id=333271478&mt=8&s=143519