X Invasion is out + promo codes
---
We are proud to introduce 'X Invasion', our first game for the iPhone/iPod
based on our Reality Based Gaming platform!
Aliens and UFOs have invaded San Francisco and it is up to you to save the
city! You can fly over a REAL view of the SF Bay Area rendered with real
map data. With our unique 3D roaming technology, you can fly anywhere
and see real streets, landmarks, and points of interest!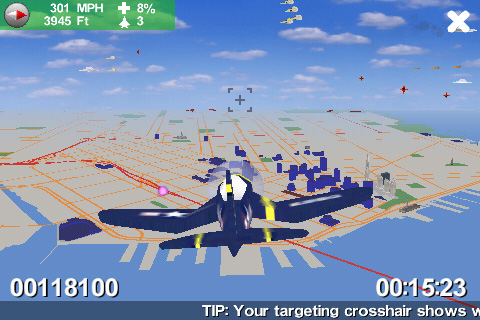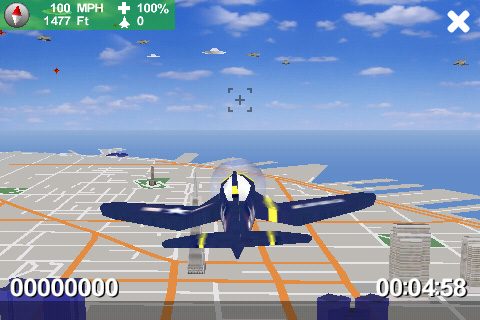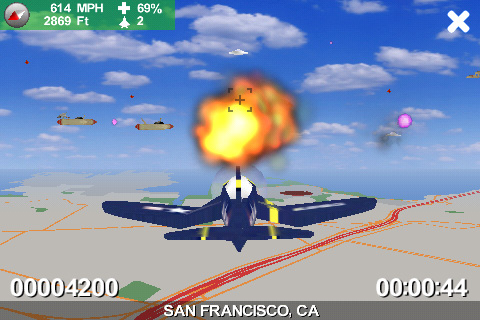 X Invasion features two modes: Career Mode and Timed Mode. Career
Mode features over 100 levels of play; earn medals as you progress to
the rank of Top Gun. In Timed Mode, shoot your way to infamy on our
global high score list.
Controls are designed to be simple to learn -- this is not a ultra-realistic
flight simulator, it's a stress relieving shoot-em-up with real views of
San Francisco.
- Tilt and rotate your device to move up/down or left/right
- Slide your finger up/down on the right side of the screen to speed
up/slow down
- Tap anywhere to shoot
We are offering a few promo codes to introduce the game and our Reality
Based Gaming concept. We would like your comments on X Invasion,
as well as feedback on how the game could be improved and where you
would like to see us go with our Reality Gaming Platform. If you like
what you see, please leave a review on the App Store and tell your friends--
if not, well, you got a free code.
XLTFX34MY3TX
NXXARLWARRNY
366PYKWMHAHM
TJ4MT3FRJ7P4
YYNMNXNYETF6
XKRHEJNJYRXM
RXAPLRLAKX39
JA39HYKTMP4E
R99W6RH3N6E4
X3KLMH3JYPJH
enjoy!
Link to iTunes:
http://itunes.com/games/xinvasion
Link to Website:
http://viderea.com/X_Invasion/index.html
---
Last edited by Viderea; 10-13-2009 at

05:31 PM

.