The Dark Matter: a blasting arcade with a story behind - Out in Sept.
---
I'm Andrea "Adre" Pelati, Game Designer and Developer in Leven Games which is a brand new indie game reality from Leven Lab, a 4 man team.
In the last 4 years our job in Leven Lab was to develop games for third companies, but now we decided to risk everything, drop the contracts and try to shine by our own becoming indies, and i'm writing here to showcase our first game, The Dark Matter, which i hope you'll enjoy.
THE CONCEPT
At first, let me clear out that we were working on another game since April (and we're still waiting some answers from publishers to release it). In August, out of money for any kind of vacancy or relax, i was doing some style exercises at home, with a nice glass of wine. One of these days, 13 August, i set a 1 week goal: try to push to the limits a game design using only primitives and a single gesture. So i started developing what became The Dark Matter.
While testing the results of the exercise, i found it so engaging that i was completely toxic of playing it, so that exercise turned out in a real project.
THE EVOLUTION & THE STORY
I found out that i had in my hands a really powerful arcade game, which i could have transformed in something cool with a little more effort in background environment and design. So i called my other team members to show them the result: we decided to work on in full time, with my pleasure.
The game has been set in a SciFi immersive mood, the player is a Microcell, in a galaxy viewed like via microscope. This universe is being devoured by an entity, the dark matter, which is absorbing and turning everything in a black hole, your goal is to survive as much as possible, but the destiny of the universe is written, unluckly ( //add tears ). Is endless, and random generated and increasingly harder: the more you'll go deeper, the more different harder enemies and powerful bonuses you'll meet in your way.
THE STYLE
I decided to keep the graphics very minimal, a dedication to pixels without using voxels, and an homage to old style arcade coinups that guys of my age loved when they were children, when we were stealing 50c from the parents to have another go.
It's has been a real challenge to give a defined visual style just using nearly unmodeled primitives, but i was very happy with the blasting results and the amazing playability. But something was missing. The audio part was not fitting the mood. I contacted Victor Love (Master Boot Records ) and showed him the project: he decided to be part of the team, and we started working togheter to pack the game with 5 amazing chiptune tracks and custom VFX, made from sample instruments of the tracks. The result made me totally excited, everything was working togheter like an oiled machine.
The result is a game very smooth, easy to start with, very hard to master, but never frustrating. And this runs at high fps on nearly every device.
THE ADDS, THE ADS & IAP
The game started growing really fast: we added 30 playable characters to unlock, 20 different bonuses, and we have 20 characters and 10 more bonuses to release in future updates, waiting for some feedbacks from players when the game will be released ( edit: is NOW in review on Itunes ). The game is packed with 7 leaderboards and 32 achievements, but our goal in the future is to let boss fights and a multiplayer happen: at the moment the server costs are too high for us
About the ADS, we decided that The Dark Matter must be free to let everyone play. But we need revenue, so we adopted Unity Ads: only rewarded ones! If there's something i hate while playing are popups, so the decision is to remove completely any kind of adv, if not the rewarded ones to keep playing, double the score and open a daily prize.
We obviously have a store to buy virtual currency to start with bonuses active. Probably in the future we'll sell also an option to remove the ads.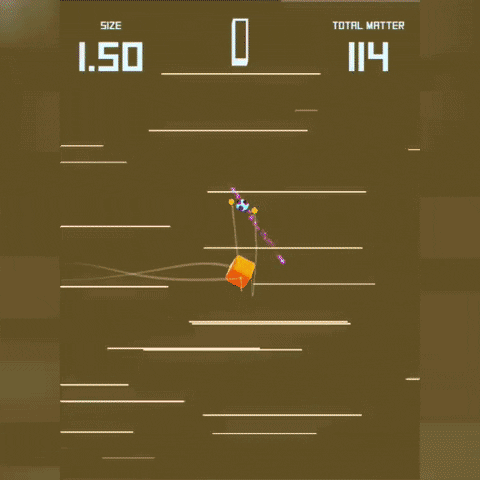 THE STRUGGLE OF BEING AN INDIE
The nights we spent awaken and the thrill of the creation was awesome, but being The Dark Matter our first product as indies is creating problems. We are encountering difficoulties to share the game, to find testers, to let it know, and is something frustrating. Who connected with the game is very excited for the release, but still we are too few. We would love a gameplay review, we would love a review.. but everything costs thousands, and is not for us, at the moment, as we spent most of the 2016 developing our products.
This is a problem of the today's internet: too many heads, too fast, too volatile. I am sure the game has potentials, but is hard to submerge. We're trying
PreApps
also to find betatesters, maybe it works, who knows!
CONCLUSIONS
We are betting everything we have on our passion, we trust the game and i bet that The Dark Matter will succeed and wont be just 1 tear in the sea
As voice of Leven Games, i hope this will be the first of a long series of entertaining and challenging games! We're open and very hungru for any kind of feedbacks, everything written here is MY point of view! Our goal is to release one of the best arcades you can play, so just feed us!
Let me do some marketing
The Dark Matter channels:
Twitter:
https://twitter.com/DarkMatter_Game
Facebook:
https://www.facebook.com/thedarkmattergame/
Preapps:
http://www.preapps.com/new-iphone-ip...rk-matter/5753
Website:
http://www.levenlab.com/
PS: for any english mistake, i say sorry to any grammarnazi in advance!
---
Last edited by Adre84; 09-15-2016 at

08:50 AM

.