Guessy Stars - The voxel celebrity guessing game coming October 20th
---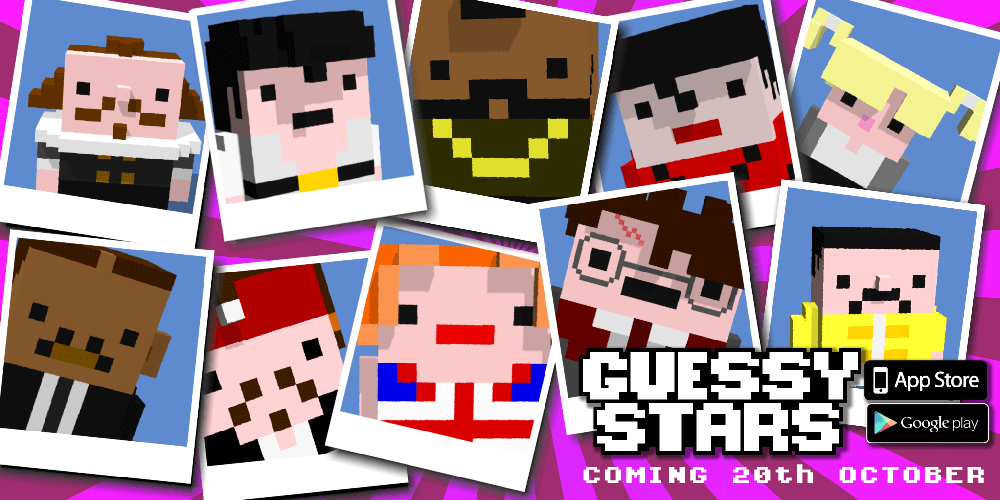 Hello everyone!
David Arnold here from
Tin Robot Studios
, and I am pleased to announce
Guessy Stars!
is to be released on 20th October 2016
It's a rib-tickling celebrity guessing game with blocky parodies of over 200 famous faces - think 'Crossy goes to Hollywood'
Teaser Trailer
Features
The latest Verby-Noun sensation!
Hilarious voxel parodies of all your favourite stars
Over 200 famous faces to guess
Popstars, actors, scientists, historical figures and even a work of art or 2!
Stuck? Use tokens to unlock a clue or 3...
Still Stuck?!?! Ask your friends for help on Social Media
Charming retro 8-bit sounds and blocky-voxel graphics
Free to play with the option to purchase clue tokens or earn them by watching an advert
ScreenShots

History
Tin Robot Studios
is me, David Arnold, a programmer and industry veteran of almost 20 years.
I have had the pleasure of working on many high profile titles over that time including the Official Olympic Games for Beijing & Vancouver, Buffy the Vampire Slayer:Chaos Bleeds, movie tie-ins for Ice Age 2, Disney's Atlantis, Robots & Rio and Harry Potter Kinect.
In recent years I have worked as a programmer at Eight Pixels Square on the mobile hits Lawless, All Guns Blazing, Cartel Kings, Ghostbusters:Slime City and Raid HQ.
Guessy Stars is my second game and I am responsible for design, coding and all 200+ voxel characters!!!
Music by award-winning Steve Duckworth (It's nice to have friends in the industry
)
I would love to know what you think, but don't ask me for any clues because "I pity the fool" who can't guess my characters.
Feel free to find out more here.....
Tin Robot Studios