Human Puzzlepede - a physics puzzle game for mobile
---
This game was picked up and featured in a blog post by TouchArcade here


Yes, I did plan to launch it last November -- but it's been a challenging and unpredictable year. The game will come out when it's fun enough for you to enjoy!
Developer background: My name is
Michael
and I've been making games for companies like Gameloft, Storm8, Jam City, and others for several years. Before that I used to make indie games for Kongregate.com, Newgrounds, and other Flash gaming portals. Human Puzzlepede is my first solo mobile game, and it is built entirely in
Stencyl
as a free to play commercial product (monetized by advertisement and IAP). It encompasses a lot of what I've learned into a new experience that should feel new and familiar at the same time. I hope everyone will enjoy it, and I appreciate the support so far!
Original Post
Hi TA,
This game is called
Human Puzzlepede
and I've been working on it for almost 2 months now as a solo project. I'm hoping to release it sometime in early November!
The basic concept is that you don't have a lot of control over the character, but you're trying to guide him through each level without dying of starvation or being killed by any obstacles. The game will be free to play and monetization will occur through advertising as well as being able to purchase coins which are used for continues. As you can see from the video, coins can be easily earned in-game, but the cost of continues will be high enough that you will not be able to collect nearly as many as you would want to be able to, and the later levels become very challenging.
I'd love to post the results of the game here on TouchArcade including my retention and monetization numbers for the benefit of the indie community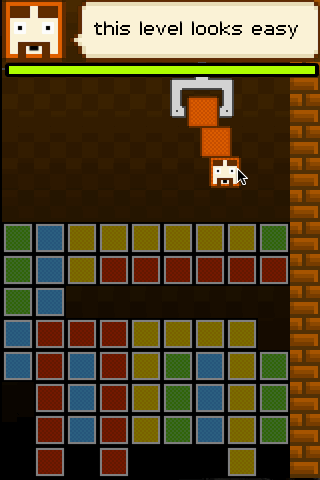 Cheers,
Mike
EDIT:
New Screenshots added April 2017 -- see my post in the thread for details about this project! Thanks! EDIT:
New GIF added June 2017 ---
Last edited by mikeygames; 06-21-2017 at

10:06 PM

. Reason: more new gifs plus a header