It's Full of Sparks: Beta Updated! Changes and new levels available to download
---
Yes! after near two months from the first Beta release, we have the Beta updated!
First of all, thanks for all the great feedback we have received from people in Toucharcade's forum. Sharing this part of the development with you has been awesome. And very useful! You know, when you are developing a game it's very easy to lose the focus and make a lot of weird decisions because you don't have the necessary distance. And sharing it with you has been the better way to detect all the thinks that didn't work. After two years, we are now kind of blind at things like difficulty and other gameplays features, and you gave us light! (this is getting cheesy!)
If you are not in the closed beta yet, you can subscribe until Wednesday 25th January 2017 at:
http://sparks.dabadugames.com
Or by sending me a PM.
So, here you are the most important changes we have made:
You said us: "Get rid of this awful color overlay, please! my eyes are bleeding!". And then we did:
Yes, a lot of you said that the color overlay somewhat washed out the scene and made it ugly. Get rid of it was a thoughtful decision because this is the base of the gameplay from the very first moment.
The inspiration for this game mechanics was a game that we played in our childhood. We wrote a message with a colored pencil, and then we covered it with a cellophane wrap of the same color. The message magically disappeared!
When you put on the cellophane, all the scene becomes "tinted" with the color as a side effect. And that was what we wanted to reflect in the first version.
But, it's true! It makes harder to see the color of the next obstacle and the scene gets too dark.
So, we take a more "magical" approach in the name of gameplay and beauty: A kind of shockwave coming from the character that destroys all the obstacles of the same color! Boom!
The radial effect of the shockwave also makes the game more responsive. The objects near you disappear as just as you touch the button.
You said us: "WTF is this "at first try" thing?". And then we did: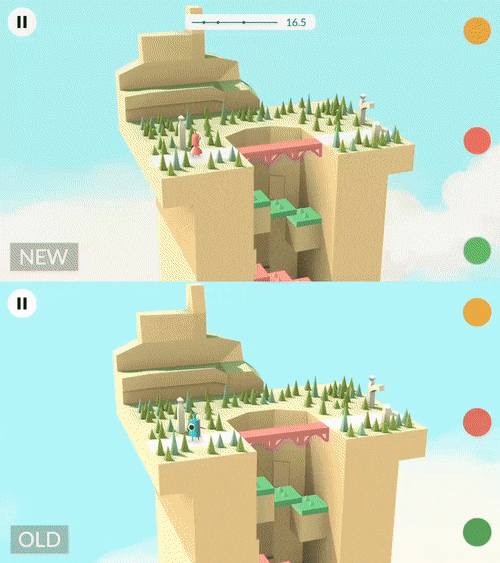 Well, we also have problems to explain it, so it's wrong for sure!
It was a try to make the game more replayable. If you can go through the level with only one firecracker, you get that star. If you lose one firecracker but then you end the level with the second one, obviously you don't get that star. But if you replay the level again and finish it with only one life, you get the star. Confusing, isn't it?
Let's make it easier. The stars are now only related to the time you make finishing the level.
We've also added and optional timer (you can switch it on in the settings menu) that helps you to focus on trying to get the three stars.
To get the three stars, you need to solve some levels in unconventional ways. So, prepare to die. A lot.
You said us: "I looked around for a moment, and when I come back to the game I realized that I had lost a lot of firecrackers! Dammit!". And then we did:
Yes! The game used to start automatically, so if you are on the Public Transport and look around for a moment, you could lose some firecrackers. It's not fair, and we have changed it. Now the countdown starts only when you touch the screen.
You said us: "I hate your music. I want to delete it from the face of the planet!". And then we did: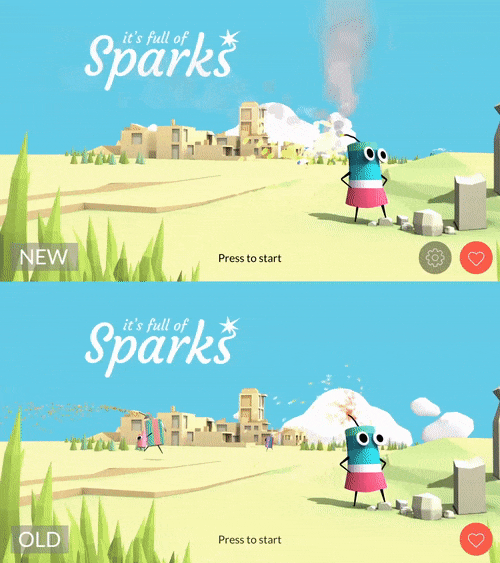 First of all, thanks! I made it myself, and it's awesome to hear that... not really. But I understand.
You have to know that there are people (a part of my mom) that said that the music was cool. Can you believe it? Music is very subjective!
We had put a settings menu in the title and pause screens, so you can shut down my fantastic music and continue playing with your own shitty music. (no regrets)
You said us: "Going to the level selection menu is difficult. I want to check progress." And then we did:
We had simplified the level selection menu deleting all the things that are not absolutely necessary. Now it's clean and easy to read.
We also added access to the pause menu and level selection in the "success" screen, making more comfortable replaying previous levels or searching for the levels where you don't have all t0he stars.
You said us: "The time of the fuse makes the firsts levels very frustrating." And then we did:
This is not an easy game. It's true. And we like it this way! But maybe it's also true that we don't give time to the player to get used to it.
We think we have corrected it by giving more time to the fuse. Get the three stars is still very challenging for the more "pro" gamers, so we hope we had broadened the access to all kind of players without breaking anything.
We have also corrected some difficulty spikes in some levels.
You said us: "I want more FX! Make things explode!" And then we did:
Everything is funnier if it explodes. It's especially true if you are playing with firecrackers! So, we have put extra love on that.
In the obstacles that disappear, we have added little particles, a kind of decompose of the object that remains for a few seconds on the screen. It helps you to remember that there was an object near to you (for example, a bridge) and gives you a clue to put it again (or not).
And that's all for now! We have updated the beta version. We have put a new world with new levels, so, go for it, and enter "THE CAVE"!
Here you are a new gameplay:
Remember, if you are not in the closed beta yet, you can subscribe at:
http://sparks.dabadugames.com
Or by sending me a PM.
We have opened the subscriptions for 50 more testers. You can Sign Up until Wednesday 25th