Expand your business opportunity through The Largest Digital Content Event in ASEAN
---
Expand your business opportunity by adding value to your products and services through The Largest Digital Content Event in ASEAN to be held in Thailand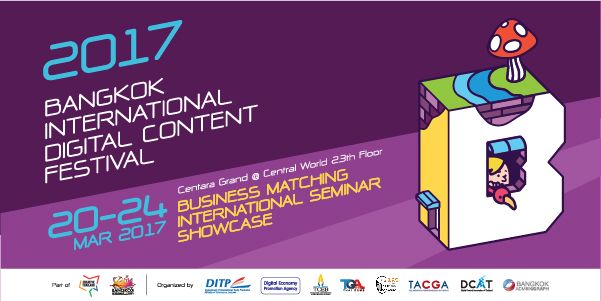 Business opportunity for individuals looking to increase value to your products and services through digital contents is bound to take place in Thailand in The Largest Digital Content Event in ASEAN, Bangkok International Digital Content Festival: BIDC 2017, which will be held on March 20-24, 2017 in Bangkok, Thailand.
Digital content roundup in a single event.

This event will include more than a thousand of featured showcases of digital contents; moreover, this yearís popularity of online games, mobile applications, e-learning by Thai professionals and character design has rapidly risen in Thailand. Also, a number of globally renowned character-design and digital-content individuals will be featured on stage and take close participation in this program who are from prominent developers such as Square Enix, Ghibli, Lucas Film, etc.
Emphasizing the status of ASEAN Digital Content Hub with over 200% constant investment growth, and with the corroboration from Thai government sector in order to foster digital content industry, this event holds session to promote business opportunity among leading digital companies from all over the world. In the past events, over a hundred deals had succeeded which, as a result, generated over $US 50 million in market value
The not-to-be-missed job fair and session that will increase your teamsí productivity

In addition to business opportunity, another highlight is job fair which allows you to find the right personnel of over a thousand job seekers with distinguished profiles in digital content industry
For more information, please visit
http://www.bangkokdc.com