FULL OF STARS - A story driven game about humanity's survival
---

*** WINNER OF POCKET GAMER BIG INDIE PITCH 2016!***
Full of Stars is a story-driven space journey game about humanity's survival.The journey will be a test of both your skill and your humanity.
When a galaxy-wide war destroys planet after planet, humanity finds itself on the brink of extinction. Scared refugees scatter across the stars looking for safety. Luckily, they find you - a daring space captain, willing to bring them to a safe haven. You'll need to lead them through dark and unknown parts of the galaxy, remnants of long-dead galactic empires, and sectors overrun by alien life forms.
TRAILER:
Youtube link
|
Pop Up
KEY FEATURES:
• Wildly intuitive mechanics of an arcade game with a gut wrenching story, where every choice matters.
• High replayability inspired by rogue-like games, with branching world exploration and random encounters to make each of your many playthroughs a unique experience.
• A challenging gameplay which highlights the core theme of the game - survival at all cost.
• Upgrade your ship and prepare for the challenges ahead
• Expand and upgrade your safe heaven
• Exciting levels which combine the best features of a hand-crafted experience with the diversity of procedurally-generated environment.
• An original mix of graphics where the retro direction meets modern approach.
• Music composed by Marcin Przybyłowicz, known for The Witcher 3: Wild Hunt, which adapts to the gameplay.
SCREENS / ICON: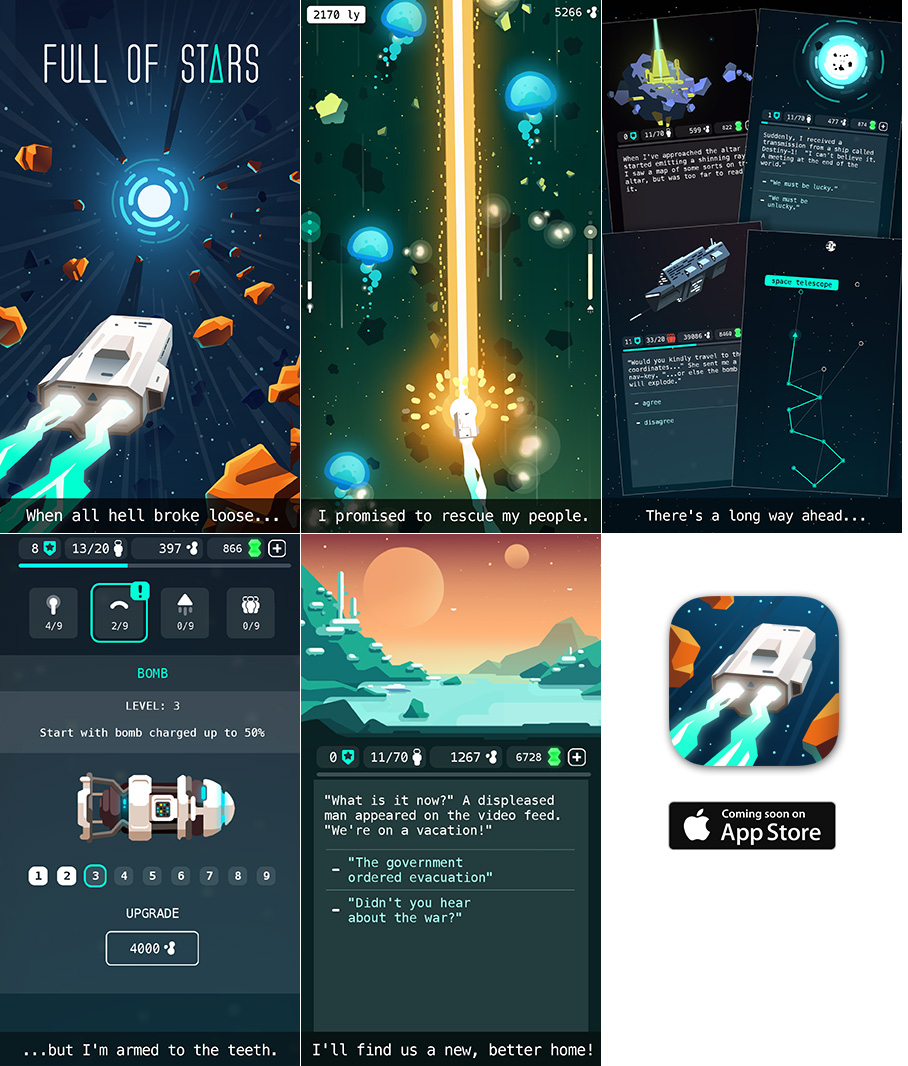 TESTING THE GAME:
We are going to launch game soon. If want to play game earlier, become a tester, or simply try the game before launch - send us your Apple ID at
hello@atgames.pl
and wait for email invitation.
Launch date:
13th April / App Store
PressPack:
http://atgames.pl/full-of-stars/FoS_presspack.zip
FOLLOW US ON:
Facebook –
https://www.facebook.com/fullofstarsgame/
Twitter –
https://twitter.com/atgamespl
Instagram –
https://instagram.com/atgamespl
http://www.atgames.pl
---
Last edited by ArsThanea; 03-29-2017 at

06:51 AM

.