Froggler, a retro arcarde endless puzzle-runner
---
Hello everyone!
We have been developing our game for the last months and as we approach a softlaunch for the game, we want to start sharing some updates in toucharcade, as to have everyone that could be interested in playing our game, informed about our upcoming plans.
We will be updating this thread on wednesdays and saturdays, with the latest material that we have for the game, screenshots, renders, animated gifs, and we will also share some of the polls that we usually open on twitter.
What is Froggler?
Froggler is a retro arcade puzzle runner that brings its inspiration on blending old classics like Frogger and Toppler ( Perestroika) with some of new school mobile games as Crossy Road and Subway Surfers to generated an addictive endless-puzzle-runner game that will challenge player skills to its limits. The game is being developed by a small game studio based in Spain, called Hydra Interactive Entertainment. The game is to be released on iphones and ipads in June 2017.
Links
Twitter
|
facebook
|
web
GAMEPLAY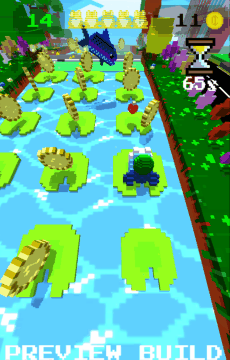 IN-GAME Screenshots
UPDATES
#UPDATE 1
- Welcome to froggler.
#UPDATE 2
- Fixing bug in the store listing.
#UPDATE 3
- The coins lifecyle.
#UPDATE 4
- Fixing lilypads timings
#UPDATE 5
- New Characters
---
Last edited by froggler; 05-23-2017 at

02:36 AM

. Reason: Adding index to new content