Super Pig Dash - iOS Super Platformer! Testers wanted!
---
Hi, I'm the developer for
Super Pig Dash
. It's a cool little 2D platformer where you play a Pig trying to avoid the raining ice-cream sandwhich missles from above by zip-zapping across the screen. There is 9 playable characters and I want to add in 9 different missile types besides ice-cream sandwhiches. I'm nearing completion on it and would really love some feedback to take it to the next level! I'm doing testing through the TestFlight app if you would like to sign up just provide your email and download the TestFlight app on iOS - iPhone or iPad. I'll hoping to release in August!
The game does have sound but it's just not captured in the video. Once I do a good trailer to promote it a bit more it will have the full sound treatment.
You can follow me at twitter at
twitter.com/georgesprites
The WIP website for the game can be found at
SuperPigDash.com
Comments very welcome!
Latest Gameplay GIF:
https://twitter.com/GeorgeSprites/st...28339700985856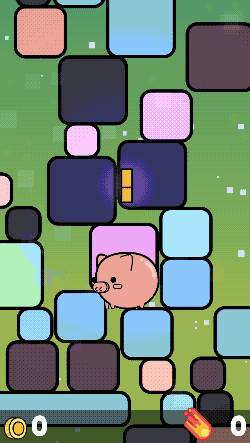 I will be trying to do 1 update per day until the end of July when I submit to the Apple App store! Follow me on the journey!
Update 1, New Missile Warning UI
Update 2, Horizontal Missiles
Update 3, added new default Missile type Fireball!
Update 4, New Red Coin that spills out smaller Coins!
Update 5, Added a new power up so that you can destroy missiles!
Update 6, Refined the lightning power so it looks even better!
Update 7, Working on new UI/UX
---
Last edited by georgesprites; 08-05-2017 at

03:03 PM

.