[BETA] TESTFLIGHT ! Gloomy Z Dev's diary- Shooter+TD: teaser
---
GLOOMY Z Testflight is open!
If you want to try Gloomy Z, just mail us at
info@agapornigames.com
Hi Toucharcadians!
I'm Olmo Castrillo, game designer at Agaporni Games, a small indie Spanish developer who previously released Dissident, a handmade designed shooter-runner (you can download it in the Appstore:
https://itunes.apple.com/us/app/dissident/id1201277611?mt=8
). We're also producing Boxtrip, a skill based runner which is now on TestFlight:
http://forums.toucharcade.com/showthread.php?t=309383
.
We're proud to introduce in this forum the alpha version of our third project:
Zombies are coming! Take your best weapons to fight them before they tear down your tower. Gloomy Z is a shooter-tower defense hybrid in a black silhouettes cartoon style.
Features:
- Easy to play: tap over the zombies to shoot them, switch and reload your weapons by one single touch!
- Earn and choose among different weapons and tools to fight the zombie horde.
- Upgrade your weapons stats to smash stronger foes.
- Unlock new thematic worlds where more monsters, weapons and mechanics await you.
- Black cartoon silhouettes against a wide variety of backgrounds.
Release Date: Winter 2017
Platform: IOs and Android.
Age: 12 +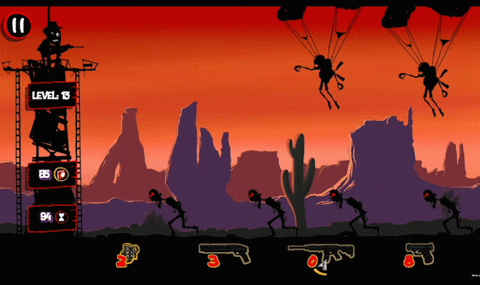 GAMEPLAY
While having some tower-defense elements, Gloomy Z gameplay core is shooter with a tactic component. Your main character won't auto shoot, so you will have to press the screen in order to use your guns.
Every weapon has different stats. For example, the shotgun is lethal on the short range but harmless if the target is far away. Or the auto rifle has low impact but a high cadence, dealing great DPS. You can upgrade your weapon stats in the workshop.
At the begining of each level you will have an amount of resource points to spend on your weapons and tools. The guns will have unlimited ammo but the tools (like grenades or barricades) will be consumables.
However, every weapon has an ammo capacity. When the clip is empty, you'll have to wait the cooldown for your weapon to be ready. Then it's the time to switch to another one and blast those zombies away!
So Gloomy Z gameplay juice is about choosing the appropiate weapon in each situation and reloading weapons before they run out of ammo. You will need your best gun to be ready in the most dangerous situation!
Introducing a few enemies:
Standard zombies: because every game needs a regular soldier!
Skydiver: the flying enemies will insta-kill you. Don't let them grab you!
Chainsaw: this little one has low hp but he is really speedy!
Colossus: a tank. Slow but relentless, your regular guns won't make him stagger.
Dragoon: a flying enemy more resilient than the sky-divers.
WIP: WORLDS
We're working now on the first and second world (20- 25 levels per world). Every world will have different backgrounds and new game mechanics.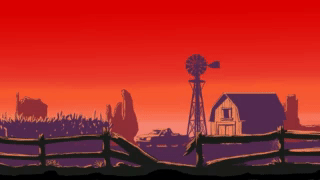 The theme of the first world is the West. So you will find stuff like wagons with gold or dinamite moving toward your postion.
The second world is the Highlands. You will find foggy levels and dragons. You'll be able to use the castle door to smash the incoming zombies. But beware, other menaces could enter then inside the castle once the door is open!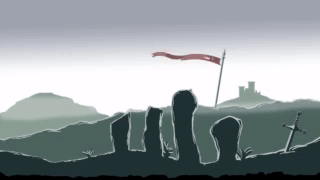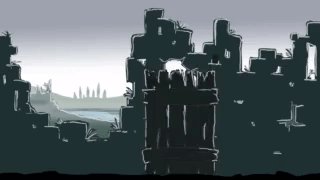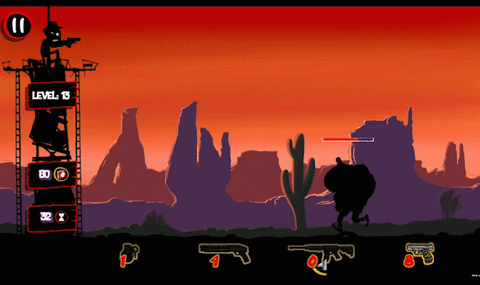 As you can see, everything is alpha material. We are making graphic and design upgrades every day, so stay tunned. We´ll be posting some GIFS and videos this week.
Looking forward for your feedback.
Cheers!
The Agaporni Games Team.
---
Last edited by Agaporni Games; 02-19-2018 at

04:55 AM

.