Chasmic Rush - A Mazing 3D Flyer
---
Probably the longest maze in video game history. How far will you get?
Launching November 4th 2017
Chasmic Rush is a high-end 1-Button flyer where the player has to guide his ship through the longest maze in video game history. The goal is to offer players a unique challenge over and above "Infinite Runner" style games, in a carefully designed maze that balances out positive and negative space which makes it more interesting to play.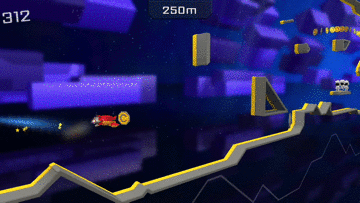 Note: This is a very difficult game to complete
Easy to play, but extremely hard to master as it needs 1-button precision at supersonic speed. It is unlikely you will ever reach the end, but you will have lots of fun trying!
GAMEPLAY
- Controls: Tap to jump, Hold to thrust, Release to drop
- Fly through the chasm and don't hit anything
- Rescue Astronauts
- Collect Coins to trade for faster Ships
- Avoid the BlobEmoji
FEATURES
- Furiously fast finite flyer with genuine 3D graphics
- Highly addictive, just "one more go" gameplay
- Fabulously fun with innovative game mechanics
- Play Landscape showing full view or Portrait for a demanding one-handed challenge
- Colourful gorgeous graphics running at a silky smooth 60fps
- Maze segments in the Chasm are precision placed for optimum design and non-repetitive feel
- Finite level design lets you develop a strategy to improve, while retaining challenge
If you reach the end of the Chasm you will be awarded XP based on the ship you used. To score more XP you have to win with different ships.
ENHANCED WITH METAL
Due to the complexity of the 3D graphics, only Metal devices are supported because they permit super-smooth frame rates of up to 60fps.
This will be a paid game, and I am currently thinking about what the price should be….
Nalin Sharma
Developer
Follow us!
web:
www.chasmicrush.com
blog:
www.chasmicgames.com
- plotting the end of the Infinite Runner
twitter:
https://twitter.com/chasmicgames
facebook:
https://www.facebook.com/chasmicgames/