Summoners Fate - Tactical Fantasy Dungeon Adventure & CCG w/ Board Game Feel
---
Greetings TouchArcade,
I'm Ross, an indie game developer known for my making an iOS game called
Hero Mages
which was popular here on TouchArcade back in 2012 (
http://forums.toucharcade.com/showth...hreadid=129962
)
I very much enjoyed my interactions with the community and learned a lot from you. One of the most successful features for Hero Mages was asynchronous multiplayer, a request made by you that I was happy to add to the game. I never stopped thinking about the other most heavily requested feature: single player adventure, and today I am pleased to share with you that I'm picking up where I left off in Hero Mages with it's spiritual successor, Summoners Fate.
Summoners Fate
Coming 2018 to iOS / Android / PC / Mac
Summoners Fate is a top-down adventure that combines exploration, card collecting and tactical combat.
You control the fate of your Summoner and command an ever-changing band of companions. You explore the world through a series of cryptic maps called Prophecies that reveal entrances to dungeons that you battle through in turn-based tactical combat. By defeating monstrous hordes and progressing deeper through the dungeons, you reap rewards of new collectible cards that grant you additional allies to bring to your party, powerful spells, weapons and armor.
Features
●Tactical Turn Based Combat: Enjoy battles that are immediately fun and accessible. Intuitive controls let you keep your focus on the battlefield and master gameplay through tactile response and trial and error.
●Combat Physics: Manipulate gravity, time and space and execute gratifying combos with unique mechanics that alter the battlefield in ways never before seen in a tactical RPG. Destroy and transform environments to have a meaningful impact on your tactical decisions.
●Unique Top-Down Perspective: Take absolute control of the battle from a unique birdís-eye view where characters literally look up at you to command them. Enjoy colorful animations reminiscent of a board game brought to life that are easy to read on mobile and beautifully detailed on PC.
●Rich Single Player Campaign: Explore dungeons, travel through diverse terrain, and encounter monstrous creatures in a world thatís constantly evolving through procedural generation, hand crafted levels, and regular content updates. Lightweight atmospheric storytelling invites your imagination to derive your own narrative - or unravel ours.
●Strategic Resource Management: Each area you explore seamlessly connects to another. Your choices, surviving heroes, and remaining cards carry over to the next battle. Plan carefully before raiding dungeons - will you escape with the treasure or succumb to the dangers within?
●Crossplatform Multiplayer: Play anywhere with asynchronous, real-time and on-demand, "desynchronous" cross-platform multiplayer. Play how you want with support for both landscape and portrait modes.
●Deck Building: Build teams of heroes ripe with diversity and suited to your playstyle from a set of over 400 cards planned for launch including over 200 playable characters.
●Community Driven Development: Enjoy regular content updates with new cards, characters and features inspired by you!
Summoners Fate is inspired by classic tabletop miniature and RPG board games like D&D, Hero Quest and Warhammer
Why am I making this game?
My goal with Summoners Fate is to capture the excitement of board games, RPGs and card games I love to play with friends but donít have a lot of time to play anymore. I am making this game for the time-strapped gamer that wants to have the joy of these experiences again.
I was inspired by TouchArcade community members that played my first game, Hero Mages, and who really wanted to see a single player campaign element. Summoners Fate has been carefully designed to deliver an optimal adventure for mobile gamers. Battles are quick, averaging just 3 minutes to complete. When you finish a battle, the dungeon transitions seamlessly to the next room, carrying over your remaining cards and surviving heroes to the next encounter. When you complete a mission, you explore new locations on treasure-like adventure maps, which each contain a lightweight story intended to provide atmosphere and cryptic riddles that let your imagination fire up like when you play pen & paper RPGs.
Completing missions rewards collectible cards that let you cast spells, summon allies, and equip weapons.
Collectible cards replace traditional RPG progression and ability bars. Cards intuitively drag onto the board, eliminating complex menus and allowing your attention to focus on the battlefield and enjoying the experience. I have plans for over 400 unique cards including over 200 unique playable characters for launch.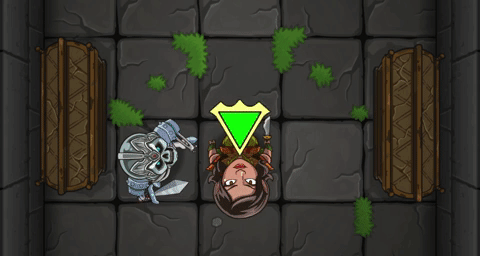 Characters literally look up at you to command them
Our game perspective is a unique top-down, designed to recreate the feel of a tabletop miniature game. It's also a part of the story - you play as a deity of fate to the inhabitants to the world. On your turn, they look up at you for commands (literally). Commands are executed with an intuitive drag mechanic that lets you directly control the path of movement. This allows characters to factor directional facing and powers some original combat mechanics never before scene in a tactics game.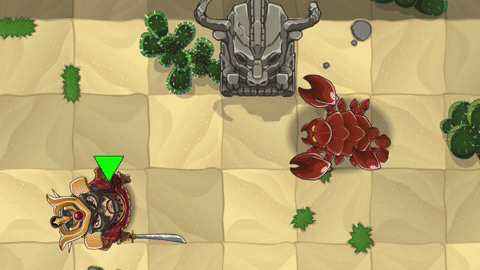 Move and attack are combined in a single gesture that makes gameplay more fluid
Community Driven Development
My top goal for Summoners Fate is to build a game that fans of these genres absolutely love and enjoy. I want to do this by making a game that's driven by your feedback. TouchArcade members were instrumental to helping improve my first game with your great ideas and suggestions. That's why I am here. To start a dialog, share regular updates on our development progress, get your feedback, and show you that I care about it by implementing it in the game.
Let me know what you think so far and what questions I can help answer. Together, we can make the definitive tactical adventure for iOS!
Yes, we have dragons! And they will be as epic and awesome as you expect!
---
Indie Game Developer, creator of
Hero Mages
and currently working on
Summoners Fate
, a top-down tactical fantasy dungeon adventure game + CCG