[Soft Launch CAN/IRL/DNK/SWE] Protostrike (by Level Eight)
---


Protostrike
Level Eight AB
Genres: Spel Action
Gratis
Quote:
Protostrike is a fast-paced online arena shooter, where players around the world engage in intense REAL-TIME combat. Hone your skills and rise to the top in the greatest handheld adrenaline rush to date. Got what it takes, soldier? Prove it!

Built for Mobile
Protostrike redefines the shooter genre for mobile, with controls you'll grasp instantly and addictive three-minute battles that leave you hungry for more. Choose a hero, grab a weapon, and shoot and dash your way through the competition in thrilling eight-player team deathmatches.

Armed to the Teeth
With over twenty distinct weapons there's something to suit every fighting style. Get up close and personal with the Shotgun, or make it a war of attrition with the Repeater Rifle. Mobility in mind? Try unleashing a bullet barrage while dashing with the Handguns. Bit of an all-rounder? The versatile Assault Rifle has your back. Turn the tide of battle with powerful Special Attacks, but watch your timing - one enemy dash can change everything.

Equipped for Anything
Take your battle strategy to the next level with Boosters and Armor. Wear down your opponents with Bleed and Ignite Boosters, or stop them in their tracks with Freeze. Play defensively with Protection, or zip around the battlefield with Haste and Frenzy. Equip new Boosters to keep your enemies guessing and mix up your playstyle. With almost infinite strategies possible, the only limit is your imagination - and skill!

Be the Best
Skill-based matchmaking ensures you'll never be short of worthy opponents. Plus, battle your way to the top of the weekly leaderboards and earn bragging rights!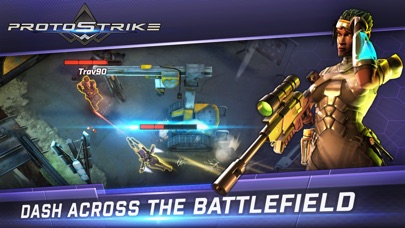 Supported Devices
:
iPhone5s-iPhone5s
iPadAir-iPadAir
iPadAirCellular-iPadAirCellular
iPadMiniRetina-iPadMiniRetina
iPadMiniRetinaCellular-iPadMiniRetinaCellular
iPhone6-iPhone6
iPhone6Plus-iPhone6Plus
iPadAir2-iPadAir2
iPadAir2Cellular-iPadAir2Cellular
iPadMini3-iPadMini3
iPadMini3Cellular-iPadMini3Cellular
iPodTouchSixthGen-iPodTouchSixthGen
iPhone6s-iPhone6s
iPhone6sPlus-iPhone6sPlus
iPadMini4-iPadMini4
iPadMini4Cellular-iPadMini4Cellular
iPadPro-iPadPro
iPadProCellular-iPadProCellular
iPadPro97-iPadPro97
iPadPro97Cellular-iPadPro97Cellular
iPhoneSE-iPhoneSE
iPhone7-iPhone7
iPhone7Plus-iPhone7Plus
iPad611-iPad611
iPad612-iPad612
iPad71-iPad71
iPad72-iPad72
iPad73-iPad73
iPad74-iPad74
iPhone8-iPhone8
iPhone8Plus-iPhone8Plus
iPhoneX-iPhoneX
Minimum iOS Version
: iOS 8.0
Download Size
: 456MB