Khromax
---
Announcing Khromax: a game of dexterity and color.
App store link:
http://itunes.apple.com/WebObjects/MZStore.woa/wa/viewSoftware?id=337874680&mt=8
Khromax is a simple, elegant game that takes full advantage of multitouch. It has exactly one mechanic (dragging) and one goal (color matching). Drag same-colored pieces together to score. Avoid colliding different colored pieces or you lose. This quickly becomes engrossing.
Khromax is appropriate for all ages, and difficulty scales with player skill. The game starts with four colors, and adds more (up to eight) as score increases. Pieces are worth fewer points the longer they sit on the screen, so hesitation leaves a beginning player with more time to get comfortable, while expert gamers will quickly find themselves with a worthy challenge. It's easy to play, but difficult to master.
A few tips (but not too many — half the fun is devising your own strategy):
If different colored pieces are overlapping, wait for a free piece to spawn that you can use to eliminate one. Don't let clusters panic you.

If no winning moves present themselves, use the time to arrange the existing pieces to give yourself more room and clear paths for dragging.

Multitouch works great. Try playing on a table, or with each thumb handling half the screen, trading colors as necessary.
Khromax is available for iPhones and iPods Touch for $0.99.
It's also available for free on the web at
http://khromax.com/
— but web players will, of course, miss out on multitouch.
(And yes, the web version is all Javascript and CSS.
No Flash, except for audio support on older browsers.)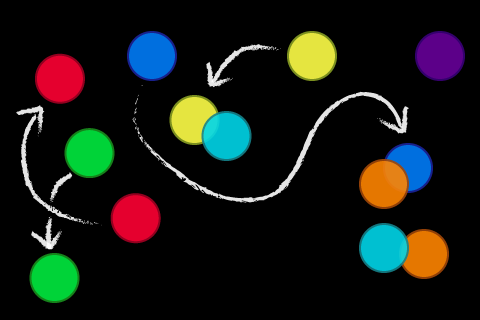 Thanks, and have fun!