The Creeps! Needs Beta Testers!
---
UPDATE:
The beta is now closed. We're almost done!!
Hi Everyone in Touch Arcade land! I'm the Dev of "The Creeps!", one of the App Store's original Tower Defense Games. I'm excited to tell you that I'm nearing completion of the newest update to The Creeps!... version 1.4.0!!
So what's new?
1. You will no longer be required to choose a name to play offline.
2. More Awards (Achievements) for a total of 1750 Pocket Score (up from the current 1000)
And most importantly...
3.
New levels and new Creeps!
Three new level packs will be available for purchase (@ $.99 each). The level packs will add a total of 30 new levels (18 unique maps)... This will DOUBLE the number of available maps!
Which brings me to the purpose of this post... I need help testing all these levels!
If you are interested in becoming a beta tester, DO NOT POST HERE and please DO NOT PM ME on TouchArcade. Instead, email me at
betatesting@supersquawksoftware.com
. Make sure to tell me why you think you'll be a good tester.
I'm looking for people who have experience testing games, and specifically people who are already really good at The Creeps. I'm talking about people who have gotten a gold star on every level on Hard. I'll be expecting actual feedback about the difficulty and fun factor of each level... and if you find any bugs (although I'm not expecting many). I'll pick up to 25 qualified applicants right away (I want to get the update done as soon as possible!). Arn, Eli, Ryan... any of you TA guys are welcome to participate just to check it out (I know you don't have time to do actual beta testing!).
Anyway, here's a teaser screen
. I just love the art for the new DINOSAUR enemies! I'm not showing you the MegaBoss just yet, I don't want to spoil the surprise!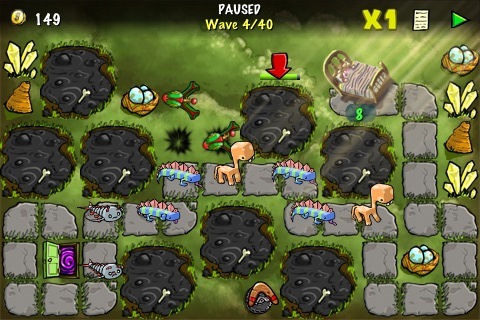 ---
Last edited by RegularStormy; 01-03-2010 at

09:49 PM

.