The Creeps! 1.4.0 coming soon...
---
I submitted it to Apple, so get ready!
You wanted more, you got it!
More: Maps!
More: Enemies!
More: Bosses!
More: Achievements!
**By popular request, you are no longer be required to pick a name to play!
**EDIT: Added extra info
This marks the 11th update for The Creeps! Over the past year I've added new maps, sound effects, new towers, new enemies, new bosses, new locales, a new game mode, facebook support and badges. I also added crossovers with the incredibly popular Pocket God and Doodle Jump games. Later I added online high scores, achievements and twitter support through the free Agon Online service. The Creeps! was the first game to offer Agon's multiple profile support and cloud data feature, allowing you to save your unlocked levels remotely so you wouldn't lose anything when upgrading your device (or replacing an old one). All of these updates have been free. Not bad for a game that only costs $.99 huh?
For version 1.4.0, I've worked for months adding new levels, enemies, bosses, scoreboards and awards. And for the first time ever, there will be some content that is not free. Game development and ongoing support costs money guys! I appreciate your support, and I hope you feel I've earned it over the past year!
In 1.4.0, the things that will be included for free are:
1. New achievements! For a total possible 1750 pocket score (up from the previous total of 1000)
2. Players are no longer required to choose a name before playing. Many people have been asking for this, and I've worked with the creators of Agon Online to add this feature.
3. There's a new help screen that displays your stats. How many gold stars have you earned? How many enemies have you defeated? Bosses? Terrain? How many towers have you built? Sold? Upgraded? Statistics junkies will love it. Plus, some achievements are based on these totals, so you can easily track your progress.
4. Various bug fixes.
In 1.4.0, there will be 3 level packs available for purchase. They are as cheap as Apple will let me make them without being free. $.99. Each level pack includes 6 brand new levels, including all new DINOSAUR enemies. People have been asking for more of a challenge, so Level packs #1 and #2 are harder than the average level, and level pack #3 has levels that are about average difficulty. If there is demand for it, I may add a 4th, easier level pack for more casual players. Also, some of the new levels include waves that have many more enemies than we've ever had before (up to 40!), including waves with 4 or more bosses in them!
Lots of work has gone into this update, and I hope you enjoy it! I've gotten overwhelmingly positive feedback from everyone who has helped me test it.
Here's a little taste of what's to come...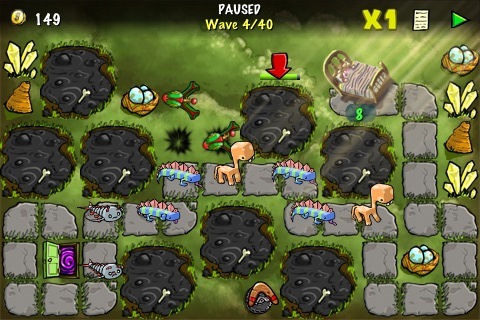 ---
Last edited by RegularStormy; 01-09-2010 at

07:39 PM

.