New RTS, "Battle of Puppets" Wants You!
---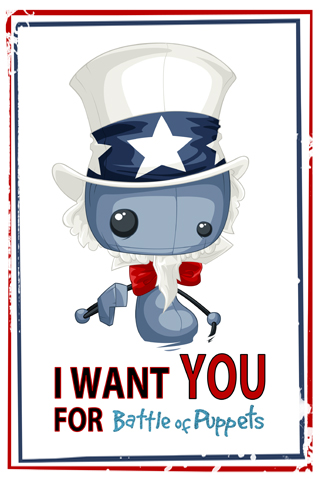 Hey guys, an awesome new RTS called Battle of Puppets is coming out later this week!
BOP combines a hand drawn, cut-out artistic style, AND ruthless puppet combat! Select one of 4 uniquely specialized armies (Operas) and campaign across 22 American cities, devastating puppet forces on the stage. The backdrops for each city even include customized landmarks and every army is affected differently by the weather!
As the puppeteer, you strategically build units, upgrade buildings and outposts, and cast gesture activated professions that turn the tide of battle and win the affection of the crowd. There are 6 professions and a whole new army type to unlock as the game progresses!
Maps:
• 22 unique locations, each with changing backdrops for day and night.
Armies:
• play as any of the 5 different armies performing 5 famous operas.
• 20 distinctive unit types
Modes:
• 3 game-play modes
-Battleground - destroy the enemy castle
-Survival - stay alive!
-Fast Battleground - destroy the enemy fast
• 3 difficulty levels
• 3 distinct user profiles
Professions:
• 6 unlockable professions let players cast magic on the enemy
Climate
• Multiple climates that affect your troops in battle
Languages
• English, Spanish, Italian, Portuguese, German, Japanese and French.
Youtube link
|
Pop Up

Links to Check out!
Battle of Puppets Website:
http://www.battleofpuppets.com
YouTube video:
http://www.youtube.com/watch?v=egQrYWJFdR4

---
Last edited by Geoffwb; 01-25-2010 at

04:32 PM

.