Battle Bears NOPZ: Swag and Secrets (FINAL Door open) and A BIG ANNOUNCEMENT (pg 53)
---
My dearests,
The time has come. That time that I was vaguely referencing before in the other topic is NOW. If there was ever a time to reveal a thing I had promised revealing in the past at an undisclosed time in the future, that time would be at hand.
BEHOLD: THE BATTLE BEARS ADVENT CALENDAR
For you poor souls that don't know what an "Advent Calendar" is, come in closer and let Papa Action give you the Christmas you've so long deserved.
An Advent Calendar is the bane of every chocolate loving sunofagun this side the Rio Grande. An Advent Calendar is a method of counting down the days until CHRISTMAS. This method is very, very American in execution. You are given a little chocolate each day as you draw closer to the most comercially celebrated holiday of all time. To achieve this you simply need to not die.
There is a flaw, however. If you were a fat, greedy little kid like I was, the second you're alone with an Advent Calendar you slay it and you SLAY IT HARD. There is NOTHING to stop you from consuming every last goody on day one.
That's why I'm here. I am what will stand between you and blowing your load all at once, so to speak.
Whoa WHAT HAPPENED TO THE CALENDAR! WHAT'S GOOIINNGG OOONNNNNNNNNN????.

The goodies may range from simple lolz to SECRETS regarding BB:NOPZ to maybe even tangible swag should I be feeling generous (I rarely feel generous- more often spiteful, cynical and a little lethargic).
This begins NEXT WEEK and "ends" on MONTHXX/XX.
Why'd I put "ends" in "quotations"? "What does that mean?"
"Hmmmmmmmmmm....."
__________________________________________________ _________
This tasty little cranny will serve as my SWAG HATCH. Whatever I decide to so unworthily throw to you will be displayed here. Check back often ;D
__________________________________________________ _________
May 27th, 2010
HERE COMES THE THUNDER!
To be entered into the FINAL DRAWING for the LAST EVER OF ALL TIME Golden Ticket, please gaze heavily into the following image, cast a CORRECT vote by leaving a comment in this thread and then... that's it.
If you would like to go a thankless extra mile, tell us what kind of icon you'd like to see if none of these tickle your fancy gland.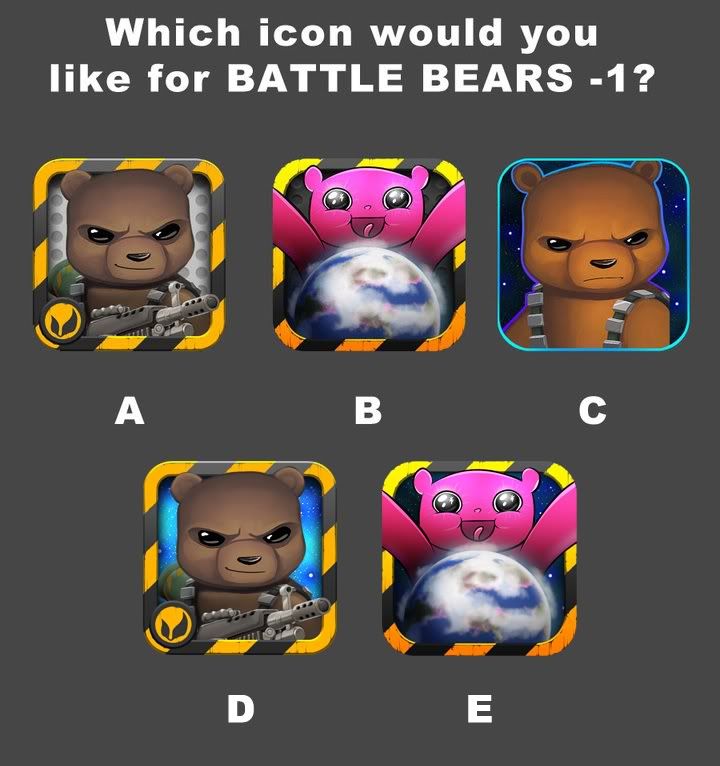 BONUSBONUSBONUSBONUSBONUS
Since you've all so gloriously glorified me in my absence, since some of you have been swimming back to me like sexy salmon every time I make a topic, for your continued loyalty and support (<3) please accept this link to an album full of CONCEPT ART for BATTLE BEARS -1 AND some real live screen shots from some NEVABEFORSEEN cut scenes
http://s989.photobucket.com/albums/a...Concept%20Art/
You all truly are my favorite children <3
---
Last edited by Lt. Action; 06-01-2010 at

01:03 PM

.