Vile Haberdashery - upcoming multiplayer party game
---
The matriarch lies dying, and the four would-be heirs to the great Haberdashery fortune have returned home to hear the reading of the will. But come morning, three of them will be dead, victims of foul
murder!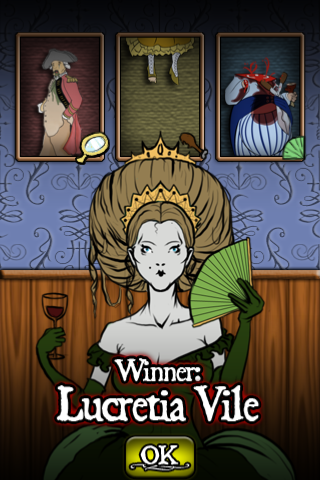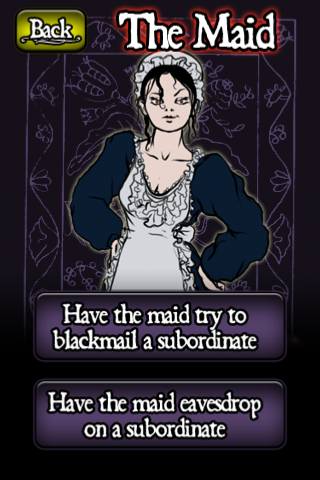 Vile Haberdashery
is a nasty, unpleasant turn-based multiplayer strategy game for 2-4 players which casts the players as Vile nobles scheming to have their brothers and sisters murdered by the lackeys, leeches, and spineless hangers-on who also inhabit the mansion. Blackmail, flatter, and intimidate your subordinates to gain influence over them, shove a weapon into their hands, and send them on their way to kill your rivals!
Unlike most multiplayer games which require all your friends to also buy the game, this game you only buy once, because all four players use the same device. The first player takes his turn, then hands the iPhone or iPod Touch (or iPad in a few months!) to the next player to take their turn. As each player takes their turn, audio cues played by the device give clues as to what that player is doing.
This makes the game perfect for casual settings like hanging out with your friends, eating lunch with co-workers, commuting on the Metro, etc.
Version 1.0 has been submitted to the App Store, and should hit in a few weeks, and we're already working on version 2.0.