Cat Trap v1.1 (Level editor and more!) - Coming Soon
---
Wrapping up development of the first update to Cat Trap (
Main Thread
) the update is offering a bunch of new content and some minor fixes.
New Content
Level Editor
Now available is a level editor allowing you to create, play, and share your very own levels. You have access to all the block types to design an amazing level to test the skills of you or your friends. Once you create a level you can play it yourself or send it to a friend via a Bluetooth P2P connection.
New Blocks
Fire Block - they can be pushed around like a normal block but if the mouse tries to push it directly it will get burnt and subsequently die.
Fish Block - they are great for distracting cats, if one happens to go next to a fish block they wont leave it!They too can be pushed around like normal blocks.
Sticky Traps - Unlike mouse traps they don't kill you but they do leave you stuck for a few seconds. This will make you vulnerable to cats.
New Levels
Added in this update is 25 new levels for your enjoyment implementing the new block types we have provided.
Improvements
Added link to website
Improved mouse trap graphics
Updated OpenFeint
Cleaner Logo
Cat AI improvements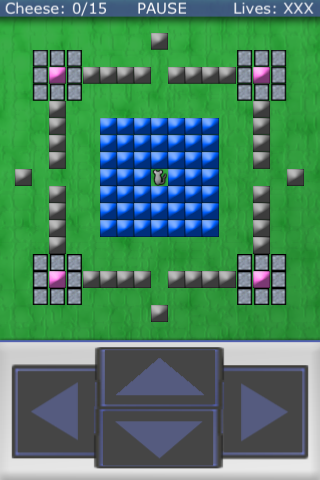 The update should be submitted to Apple within the next few days or so!
It's been on the app store for about 2 weeks now and has sold a little over 200 copies. Programing has been a hobby and not a business for me. I never went into this expecting to get rich... And for me too get 200 sales in the past two weeks and now averaging about 10 a day I feel like its doing quiet well. Sure my expectations are low but compared to some of other great apps that get lost in the depths of the app store this app is doing nicely. Though I didn't put any money into it other then the $99 developer fee I managed to break even and then make a profit.