Split/Second Coming to Idevices
---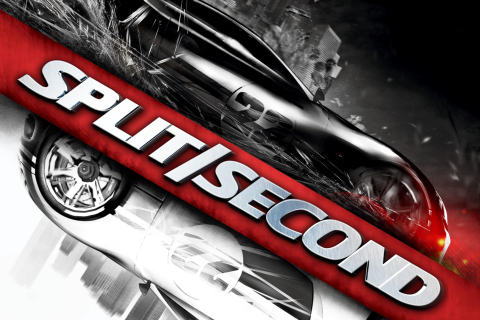 The crazy destruction racing game is coming to the iPhone!
In the past few weeks, quite a few details have emerged for the console arcade racing game that is "Split/Second". Having played the Xbox 360 version for about an hour, I have to say that this title is shaping up to be the next "Burnout" sensation for racing fans. Fortunately for us, Black Rock Studios is bringing us an iDevice version of the game this May.
I've never been a big fan of racing games. Simulators are a definite point of frustration, and arcade games aren't bad, but never quite did it for me. What I do like, is blowing things up. In Split/Second, you do that. A lot. The entire concept of the races revolves around "power plays", which are great at making your opponents asplode into glorious shrapnel. As you perform slides, get air, or crash into other racers, your power play meter fills up. When you near a part of the track that has a rigged object/area, you can use this power to activate an event that can both distract or completely destroy your opponent. The plot of the game revolves around fake cities that are completely rigged to be used for a reality television show. So, you know, it makes sense.
While the game is still far from launch, Split/Second looks fantastic, with surprisingly convincing explosions, and a good sense of speed. There is still plenty of tweaking to do, as right now it's extremely easy to crash and have to respawn, but the overall look, design, and feel of the game is spot on with the console version. And let me say it again, the console version is gooooooood.
The game is going to feature 4 tracks at first, with 1 that is exclusive to the iPhone version. Based on how you play each race, there are up to 3 different paths you can take within each track. If you save up all your power, you can hit a special red power play move that does massive damage, oftentimes completely changing the track as a result. Hence, different paths. There are also shortcuts you can open as you are racing.
Split/Second will also feature local wifi, bluetooth, and online multiplayer. It hasn't been confirmed yet, but online multiplayer will feature 6-8 players at a time. All around I'm stoked for the final game, as the build I played this evening is laps better than the one I played at GDC. Stay tuned for the review later this May.
Source: Touchgen
link:
http://www.touchgen.net/splitsecond-hands-on
Xbox 360 gameplay video:
http://www.youtube.com/watch?v=5oirFKi6Sfo
---
Add me @ Game Center: BrainGame