Fartpad - Revolutionary New Farting Surface!
---
Since
Towers of War
has taken us (Conniption Entertainment) 10 billion years to make, and yes, it is now in it's final stages of development (Look for beta opportunities in the forums over the next few days), our team took the weekend off to make this smelly treat... ok.. it's disgusting... very disgusting... but it really is extremely funny to use... you can precisely control the sound of the flatulence through your finger movement on the revolutionary Farting Surface. We have used it for countless pranks around the office thus far... the remote feature is ridiculous... you can actually remote control apple devices (iPhone, Touch, iPad) and make them fart... four of them if you have the iTampon... oh.. i mean iPad
This disgusting app is in review by apple right now... for iPad and iPhone/iPod... Seriously this is disgusting...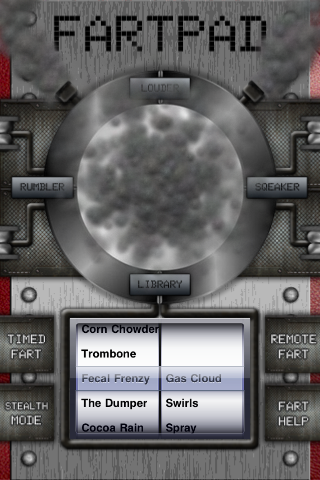 ------------------------------------------------------------------------
NEWS FLASH: New High-tech precision farting technology available! Farting is now an ART.
Fartpad's innovative engineers have announced the release of new farting technology allowing users to create the most disgusting farts this planet has ever heard with a single drag of the finger! Like em juicy? You got it! Cheek flutter? Yep. Long? Short? Loud? Squeaker? You artfully control the outcome of each and every fart. Farting is now officially an art.
Features:
-Makes farting an art! - Control the disgustingness of each fart by how you drag your finger on the farting surface.
-Play practical jokes with remote controlled farting! Control a single device with an iPhone/iPod Touch or control 4 devices with the iPad!
-Timed farting... countdown 'til fart!
-Stealth farts... Screen turns black to hide the evidence.
-Lots and lots of FARTS!
-Cool farting visual effects including flying poo chunks.
THE FARTING SURFACES - Are you the Picasso of farts?
Select a fart then tap the surface for your usually disgusting fart sound. OR, after you touch the surface, drag your finger around the surface to modify the fart and make it even more disgusting! As you drag to the left your fart starts to rumble and get bubbly. Move to the right for more of a quick squeaker fart. Move up to make it more intense and down to be more subtle. The art of the fart has endless possibilities!
REMOTE FARTS
Yes, this is exactly what you think, remote controlled farts!!! Hilarious!! Here's an example of how you can use it:
Prank Scenario: So you're in the library with some friends studying and you really need a break. It's time for a little fun. Take an iPod Touch with Fartpad on it and secretly place it next to your study buddies. Next excuse yourself to the restroom. Little do your buddies know you're actually hiding in the history section with your iPhone running Fartpad in remote control mode. Your finger connects to the Fartpad and as you drag it across the high-tech farting surface the sound doesn't come out of your iPhone, it blasts from the iPod you hid by your study buddies!!!!! HILARIOUS!!!!
What's really cool is that if you have an iPad, you can control 4 other farting devices at the same time!
*The "Remote Fart" works with all iPhones, iPod Touches, and iPads with the exception of 1st gen iPhones and 1st gen iPod Touches.
TIMED FARTS
Just like a bomb. Set the timer, place the device, and walk away. Countdown...... FART!!!!!!!
STEALTH FARTS
You can turn stealth mode on at any time to hide Fartpad's graphics and show only a black screen. This will let you fart more discretely. You can also turn this on when you're using your device as a remote! And lastly this feature automatically turns on after you set the timer for Timed Farts!
VISUAL EFFECTS
Every time your finger connects with the Fartpad an explosion of visual effects bursts forth and smoke billows out of the fartstacks. Fartpad has a bunch of visual effects that you can choose from for maximum fart enjoyment.
WHAT ARE YOU WAITING FOR? START CREATING FART ART NOW!
P.S. Send your funny Fartpad prank stories to
Support@ConniptionEntertainment.com
. Your story could be featured!
Happy Farting!
------------------------------------------------------------------------
This is one of those apps you truly have to use to really appreciate... if you get it let us know what you think!!!! Personally I think it is very disturbing...
Mike