New Game - Sheep Abduction - Screenshots and Promo Codes
---
Introducing...
Sheep Abduction
From: Sticky Studios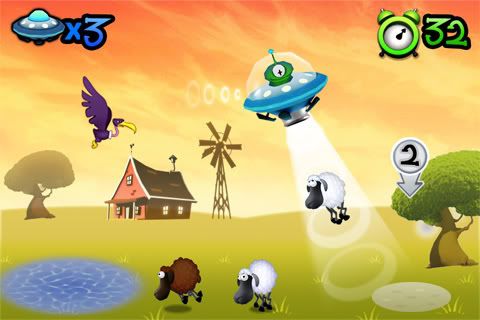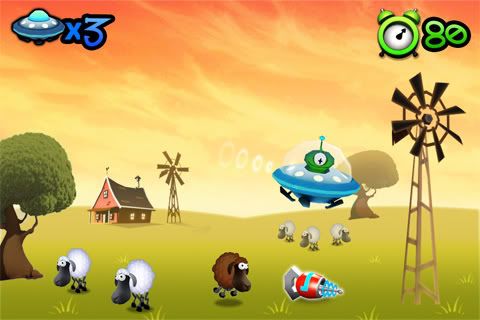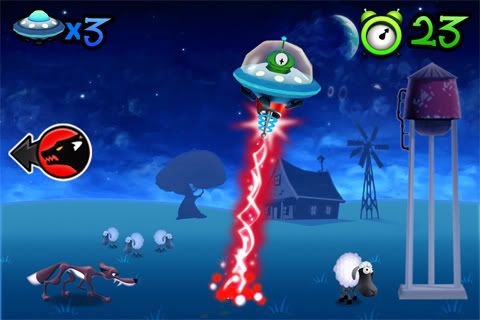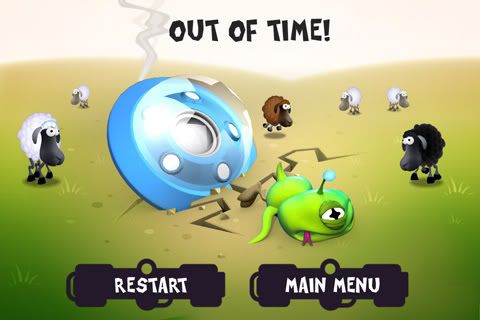 With special introductory price! $2.99

SHEEP SAVE THE DAY
Planet Zurq 340 is dying! They need a single drop of water to save their planet. Luckily, they've found a planet with lots of water: Earth!
Since Zurqs are very polite they need to ask permission from the local inhabitants: humans. In order to establish contact with Earth, crop circles need to be created. Sheep seem to be the ideal candidate to chew crops.
So...In order to save the planet, you will need to move around sheep to their destination!

GAME PLAY
Tilt your iPhone to move your UFO. Pick up "beam enhancers" to pick up specific sheep. Bring them to designated spots.
- Avoid dangerous obstacles like vultures and windmills.
- Use a deadly laser to kill wolves and other items.
- Avoid sheep drowning
- With limited resources you'll need to plan your moves.
- Pick up clocks for extra time
- Fly in broad day light, at night and at dawn.
Promo Codes
For the first 15 lucky readers who PM me (sorry lurkers), you will receive a promotional code. All we ask is that you write an iTunes review. This thread will serve as a comments/suggestions/feedback thread.

EDIT: Contest is now closed. Winners have been notified via PM.
*If you are a winner, please use your code by the end of today, as a new update is being review by Apple and will be out soon.*
If you do not win this time, do not lose hope!
We are arranging a contest of sorts for this week in which promotional codes will be the prize, so keep an eye on this thread for future updates
Developer Website:
http://www.stickystudios.com/
iTunes Link:
Sheep Abduction
AppShopper Link:
http://appshopper.com/games/sheep-abduction

Note: I am NOT the developer, just helping.
---
Last edited by VoodooVyper; 02-23-2009 at

09:23 PM

.