MagniFusion by Toco Games (new intro trailer)
---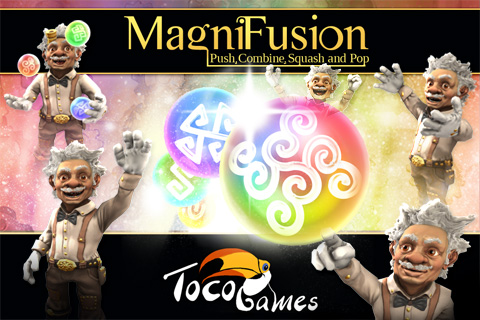 "MagniFusion: Push Combine Squash and Pop" is a unique arcade and puzzle game with intuitive touch controls, its very easy to pick up but hard to master.
Intro Trailer:
The scientist discovers the MagniFusion substance that makes the chemical bubble-merging action possible! Energy needs to be obtained from the special chemically produced bubbles!
Youtube link
|
Pop Up
also now on gametrailers.com:
http://www.gametrailers.com/video/in...ifusion/702243
Arcade with 3 variations offers a challenging experience for every skill level.
Check out the video that shows the arcade gameplay:
Youtube link
|
Pop Up
In the puzzle mode its your goal to make all Bubbles merge in a level within the given time and avoid obstacles like holes and freezing objects. There are also crystals in the levels that you can pickup with the bubbles for bonus points and gates that can be opened with triggers. For some levels you only need dexterity while others really challenge your brain, there is huge amount of varying levels.
Features:
- 3 addictive arcade modes
- Easy touch controls
- Puzzle mode with 70 Levels
- Wide variation in the levels
- All kinds of puzzle elements
- Precise 2d physics engine
- Smooth and polished gameplay
- Beautiful steampunk look
- Cutting-edge graphics
- Tips and tricks system
- 23 highscore lists
- 20 trophies/achievements
- Unlock special extra modes!
Website:
http://www.magnifusion.com
and the blog for all the news:
http://magnifusion.wordpress.com/
Expect a video about the puzzle mode soon.
************************************************** *******
The game will be be available on the App Store on July 30th.
There is a special promotion for the launch day! If you grab it in the first 24 hours after launch you will get if for FREE!
Please support us by spreading the word and following us:
http://twitter.com/TocoGamescom
We will notify all people, who retweet a tweet concerning magnifusion, with a message as soon as the game is released so you will not miss the 24 hours free promotion![/B]
************************************************** *******
---
Last edited by Toco Games; 07-27-2010 at

06:49 PM

. Reason: intro trailer and release date revealed