Coming Soon: Glow Puzzle
---
We have acquired
Glow Puzzle
from the indie developer Gloculptors a month ago and we've since reproduce the entire game to add more functionality and gave it a neon-like theme with some spacey sound effects.
Glow Puzzle is a simple yet addictive puzzle game with the challenge of solving increasingly difficult levels. The goal is to connect all the dots in the puzzle using a continuous path but you are not allowed to reuse any completed path.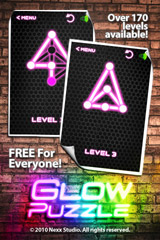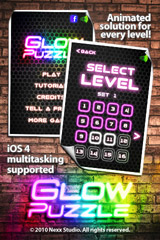 The game features up to 170 brain teasing levels and it will be released for
FREE
with additional level packs available via in-app purchases.
Glow Puzzle will be introduced in about 1 week (First week of August).

Company:
Nexx Studio
http://www.nexxstudio.com
Application Awards:
Featured in T-Mobile Austria's TopApps for Android.
Brief History of Developer:
Our independent development house was founded briefly after the App Store was introduced 2 years ago. Our team consist of talents that formerly worked with notable game studios such as Gameloft and Popcap. We have since produced 3 different app and distributed over 2 million copies of apps. Our products was previously featured by Apple in New & Noteworthy, App Store Staff's Favorites, printed featuring in MacWorld magazine and both Top Paid apps & Top Free apps. We will be introducing more in-house productions and apps from publishing deal later this year.
Other Application We've Developed:
The Stupid Test 5 (
#2 Top Free App in United States, Featured as New & Noteworthy
)
The Idiot Test 3 (
Over 1 millions downloads
)
Photo Spot (
Featured by Apple as Staff Favorites
)
---
Last edited by Grumps; 07-27-2010 at

11:54 AM

.