Zombie Invasion 2 HD for the iPad
---
Hi, I just wanted to let you know about our game coming out on the 28th of July....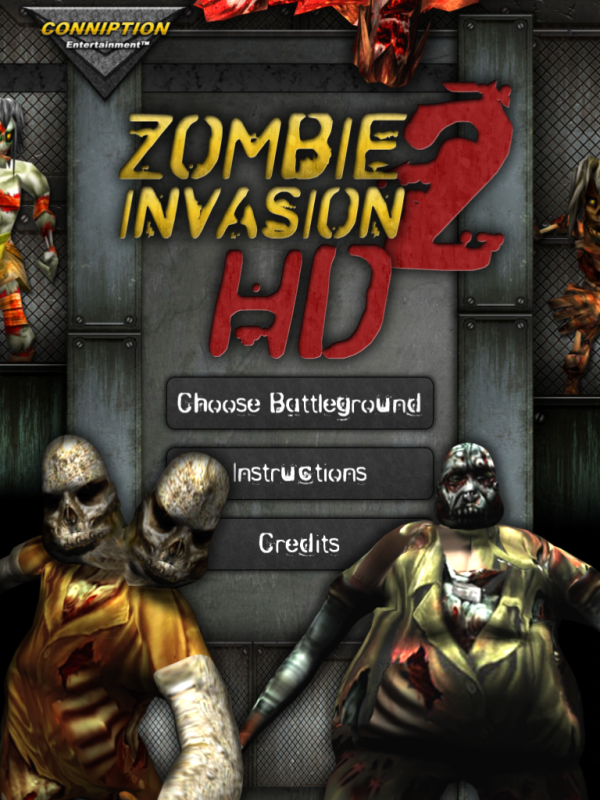 PRESS RELEASE
SAN DIEGO, CALIF., July 27, 2010 – Conniption Entertainment announces a sequel to it's hit game Zombie Invasion, Zombie Invasion 2 HD for the iPad, to be released on Wednesday, July 28, 2010.
"Back in 2008 we brought the App Store it's first zombie game, Zombie Invasion, which was a huge success for us. Now we're very excited to announce Zombie Invasion 2 HD for the iPad! More guns, more zombies, more levels, way better graphics, and an awesome soundtrack. We really think iPad owners are going to love it!" said Michael Seltmann, COO of Conniption Entertainment.
The zombies are back! And they brought friends, lots of them! Like the prequel, this game is all about survival and high scores. It's a global competition for daily, weekly, and all time high scores. Earn a spot on the leaderboard by strategically managing your money and ammo. Accuracy will earn you valuable point multipliers.
What's New in Zombie Invasion 2 HD?
- More zombie types!
- New weapons: pistol, magnum, shotgun, machine gun, flame thrower, RPG, chainsaw, and a laser canon.
- Four new battlegrounds: USA, China, Mexico, and Africa.
- New controls: Touch the direction you want to attack instead of tapping the zombie.
- New custom scored music for each new battleground.
More guns, more zombies, and more levels! Zombie Invasion 2 HD has everything our players have requested.
Release date: 7-28-10
Release price: $3.99
*Zombie Invasion 2 will be available later this year for the iPhone 4 retina display.
About Conniption Entertainment.
Conniption Entertainment, located in San Diego, California, is devoted to creating games that include outstanding game play, unique innovative design, and dazzling graphics. As a gaming company we bring fun, engaging, and polished games to consumers and provide the market with worthwhile gaming. High-quality entertainment and service will always be a priority at Conniption Entertainment as we continue to bring you new and exciting games. Conniption Entertainment is a division of Seltmann Systems LLC.
---
Last edited by ConniptionMike; 07-28-2010 at

02:12 AM

.