[Soft Launch CA] Cinemazing (by Bandai Namco Games)
---

Cinemazing
BANDAI NAMCO Games America Inc.
Genres: Games Entertainment Puzzle Role Playing
Free
Quote:
Tired of movie sequels, remakes and re-imaginings? Break the mold and create your own unique film in this magical movie puzzler!
Join Amelia and Doc in their adventure through the Cinemascape! Hop into the Director's chair and match your way to a movie masterpiece! Unlock hundreds of collectible Cinebits - actors, plots, locations, and more!
Embark on your journey alone or play with friends to see who can make the biggest box office hit!
Cinemazing Features:
• An engaging puzzler with a unique cinematic twist!
• Hundreds of Cinebits - Collectible actors, plots, locations, characters, and special bonuses.
• Power up your favorite Cinebits to discover and unlock new abilities.
• Cast magical spells to help you create your masterpiece in a pinch!
• Share your cinematic creations with friends via Facebook!
• Hilarious, eye-popping artwork.
• Easy and fun to play, difficult to master.
• 100 levels to play – with many more on the way!
• Leaderboards and Achievements to challenge your friends.
Play through 100 puzzle-matching, card-collecting, movie-making levels. Do you have what it takes to save the Cinemascape?
Subscribe to our Youtube channel!
https://www.youtube.com/user/BNGAMobileTube
Like us on Facebook!
https://www.facebook.com/BNGAMobile
Follow us on Twitter!
https://twitter.com/BNGAMobile
Follow us on Instagram!
http://instagram.com/BNGAMobile
Visit our BANDAI NAMCO!
http://www.bandainamcogames.com/home.html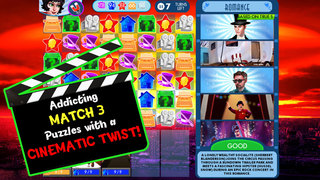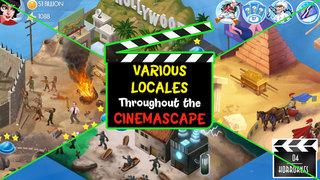 Supported Devices
:
iPhone6Plus
iPhone6
iPad2Wifi
iPadFourthGen4G
iPadMini4G
iPhone5s
iPodTouchFifthGen
iPhone5c
iPadFourthGen
iPadThirdGen
iPadThirdGen4G
iPadMini
iPhone4S
iPad23G
iPhone5
iPhone4
Minimum iOS Version
: iOS 7.0
Download Size
: 81.1MB
---
https://pixelatedparadise.wordpress.com/
- Daily iOS Roundups and Multi-Platform Reviews.
Please note that I am not a moderator; I can't change thread titles, delete threads etc. I'm happy to help where I can but it's likely faster to contact a mod for assistance.