Swizzle by Bapsoft (old Palm game)
---
Swizzle was one of my favorite Palm pick up and play games and since I got my first iPhone I was hoping to see an iOS port of it.
And now the good news (at least for me): I have just read at
Bapsoft.com
that Swizzle is coming soon!
Below the Palm version description and screenshot:
Quote:
Swizzle is a unique game of shapes that you're sure to flip over! Try to fit each shape on the board before your time runs out. The red "anchor" piece will help you guide each piece into the correct location. The clock is ticking so there's no time to waste. Download swizzle today!

Features:
- Superb graphics and animation
- Cool sound effects!
- Highly addictive game play
- Auto-save feature allows you to return to a puzzle at a later time.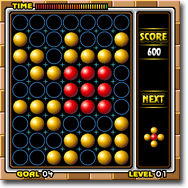 Bapsoft does not change their ports that much so the iPhone version should look like that.
---
iPhone 6 and iPad Mini iOS 8