Pig Shot - Major Update v1.1 (Universal, Retina, Game Center, more)- Temporarily FREE
---
9th June:
Pig Shot hit it's 1st million downloads!
15th June:
We exceeded 2 million downloads in just 1 week!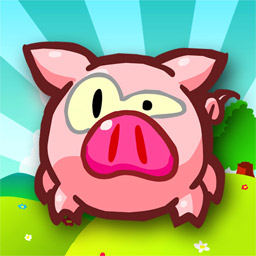 I've been working tirelessly alongside Sven (from Mudloop) for the past few months on a major update for our crazily addictive pig rolling game
Pig Shot
. We're delighted to announce that the update has finally completed and it can now be updated from the App Store.
The update provides 17 new Game Center achievements, new obstacles, a female pig (Maggie) character, progressive gameplay mode, a new leaderboard format and more.
Better yet, the game is now universal so you can enjoy it on any iPhone, iPod Touch and iPad. The price of the game remain unchanged at
$0.99
for the universal app. It's a steal!
Here is the full list of the changes that we've done in v1.1.0.
New Features in version 1.1.0:
• Game Center Leaderboards and Achievements
• 'Retina Display' graphics
• Universal App (supports iPhone, iPod Touch & iPad)
• 17 New Achievements to be Unlocked
• Female pig (Maggie) character and character selection screen
• Progressive day & night gameplay
• Leaderboard format for furthest gameplay distance
• New obstacles and powerups
• Completely rewritten game engine.
• Interactive sound effect when bump against obstacles
• Setting menu for volume adjustments
• Off game music by default
• Greatly reduced build size
• Fixed minor bugs
KNOWN ISSUES: (as of 16 May 2011)
• Multi-tasking sound glitch (if you can recreate the issue, please share us the steps)
• Game performance (game FPS seems to be a little lower than previous version. Most probably related to the new graphical shader, we are looking into it)
Get ready for some EPIC PIG-SLINGING madness! Start launching pigs off slingshot and experience the fastest pig-rolling action you've never tried before!
Pig Shot is an incredibly addicting action game where you constantly launch your pig off slingshots before rolling it at high speed through a challenging trail that is filled with random obstacles. Collect cauliflower to accumulate gas and make your pig fart for a temporary speed boost. There are over a dozen of achievements such as 'Constipated Pig' to be unlocked in the game and you can check your standing on the Game Center/OpenFeint leaderboard. You can even send an email highscore challenge your friends.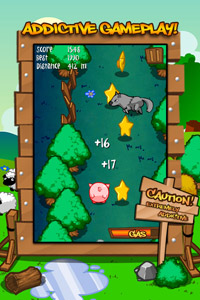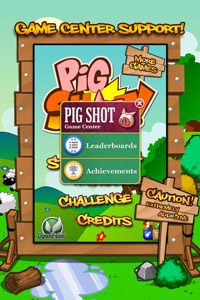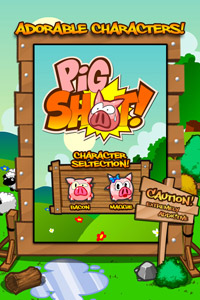 "Won't stop playing until pigs can fly"
-
iPhone Alley
"The next casual game craze on the iPhone."
(9/10) -
iPhone Life
"Anyone can pick this up and start enjoying it."
-
App Advice
"A simple yet addictive gameplay merchanic."
-
Gamezebo
"An App Store novelty."
-
Slide To Play
"Will keep casual gamer hooked."
-
Appyzilla
"Potty humor, fun graphics and dare I say addictive game play"
-
iPhoneFreakz
"You'll be flinging in hog heaven in no time."
-
The iPhone App Review
FEATURES:
- 'Retina Display' graphics
- Universal App (supports iPhone, iPod Touch & iPad)
- Game Center Leaderboards and Achievements
- 33 achievements to unlock
- Two adorable pig (Bacon & Maggie) characters
- Progressively gameplay which gets harder as the forest turn dark
- Completely randomized environment & tons of obstacles awaits you
- Challenge your friends with your highscore
- iOS4 multitasking supported
HOW TO PLAY:
Pull and release the slingshot to launch the pig. Tilt to steer the pig through obstacles. Grab cauliflower to accumulate gas and tap anywhere on the screen to make your pig fart for a temporary speed boost.

---
Last edited by Grumps; 06-14-2011 at

01:50 PM

. Reason: Updated with patch v1.1 informations.