Tiki Toss 3D - To Be Released Thursday 10/14!
---
Hey everybody,
Tiki Toss 3D will be be thrown into App stores this Thursday for
.99 cents
!
This relaxing beachside hook-and-ring-toss game is guaranteed to make you feel as if your just hangin' out on a tropical beach with a delicious Pina Colada in hand! The scenery is complete with awesome surf, seabirds, a tiki bar, sweet reggae music and even a crowd of surfers to heckle and encourage you while they're taking a break from the waves.
Tiki Toss 3D is a digital rendition of the classic island hook-and-ring game. The goal of this game is to toss a dangling ring, by swiping your finger, towards a strategically placed metal hook mounted on a palm tree roughly five feet away!
This game has three great modes of gameplay; Best of Ten, Session, and Arcade. Session mode offers unlimited tosses to try for the most back-to-back "ringers", while the Arcade mode offers even more options, such as, score multipliers, double down betting and bonus tosses.
.99 cents is a special launch price that will only last a couple of weeks, so get it while it's hot folks!
Here are some Screenshots!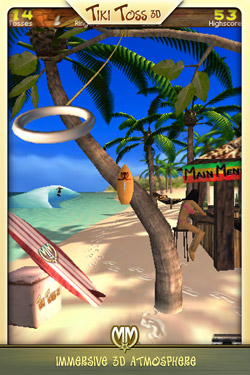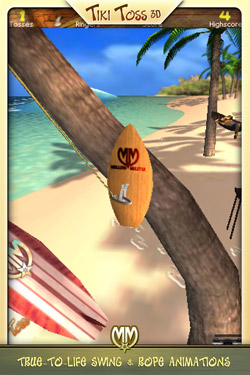 ---
Last edited by Neal_O; 10-12-2010 at

05:09 PM

.