Monkey Dash - GameVibe Studios (JUMP OUT SOON!)
---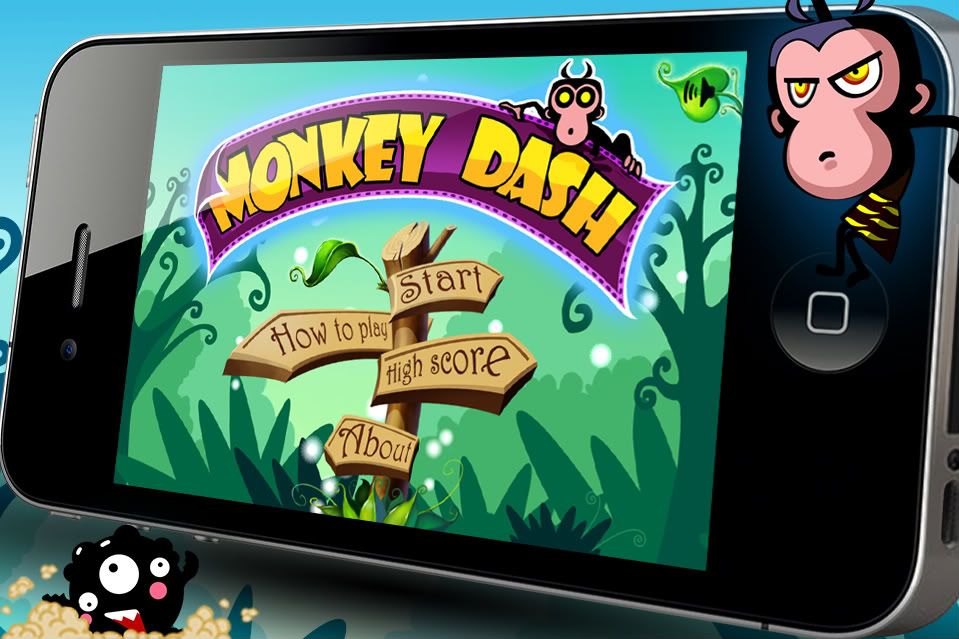 Monkey dash is a splendid, addictive, never-ending game that tests your abilities to run, jump, and conquer enemies. Your retain the duties of the monkey jumper, Wu Kong, who sports his trusty bow to ward off enemies. You must be agile and aggressive as you fight the enemies both on the ground and in the air, twirling your bow towards imminent destruction of both cute and grotesque monsters. Some of these monsters include flame-throwing dragons, tumbling and exploding bombs, disgusting maggots, flies and more.
Moreover, you must race against time to complete the missions and grab as many points as you can. Accumulate points to power-up your character's speed, stamina, jumping abilities, invincibility, shield, or strike range. These skills will certainly make your challenges easier as you progress, but beware, the game will get faster, busier, and more challenging as you battle enemies and race against time to survive.
The graphics are sharp and detailed, the game provides tremendous fun for all levels, and the character is always working to upgrade his skill level. This is a game for all ages to play, whether you are stuck on a long commute or just need to kill 5 minutes.
Features:
- Night Mode
- Six Skill Levels for enhanced character development
- Stunning Graphics
- Original Sound and Music
- Game Center Support
- Optimized for Iphone 4 Retina Display
- Post scores on Facebook and Twitter
Gameplay Video:
http://www.youtube.com/watch?v=scWqrYQHTEQ
More informations and screenshots are available on the official website:
http://www.gamevibe.us/
---
Last edited by c_hans1983; 12-13-2010 at

04:27 AM

.