GOPHER - official Thread
---
Hi there,
I am Silvio from SioSae Design and will anounce our first game for the iPhone/iPod Touch called
GOPHER, a remake of an old game I played as a young boy 20 years ago on my dad's KC 85/3.
The game includes game play elements from Boulder Dash(R), which is a registered trademark of First Star Software, Inc. Copyright (C) 1984, 2009 First Star Software, Inc. All rights reserved.
It is published with permission from First Star Software, Inc.
Features:
- 80 levels (in three different Cave Packs)
- monthly updates with all new Cave Packs
- a classic old school in game design
- an all new CAVE EDITOR to create your own levels
- controls designed after the original keyboard of an old KC85/3
- an automatic intelligent savegame mechanism
- replay caves without changing your savegames
- control the game by multitouch on the buttons or swipe from one button to another with one finger
- uploading and sharing of cave packs will become available with an update of the game later
a video showing the game in an earlier state (before the final name and graphic changes):
Youtube (please watch in HQ mode)
here are some screenshots: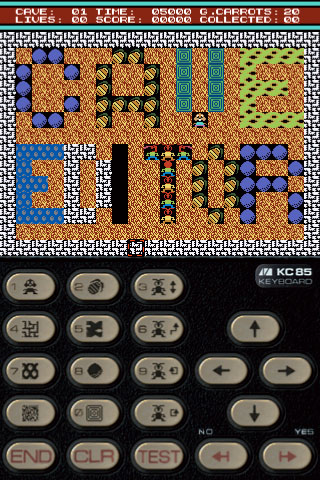 Have fun,
Silvio
Side Note: I had another thread here but due to ongoing negotiations and a resulting rename of the game I had to open this new and official thread.
---
Last edited by SioSae; 03-25-2009 at

03:59 PM

.