Go Go Mongo! Game for kids 2+ FREE PROMO CODES!
---
**** EDIT: I'm giving away 5 promo codes! First 5 people to bump this post and send me a PM with their email address gets a promo code! ****
Hi everyone! Although I've been trolling this forum for a few months, this is actually my first post.
I'm getting ready to release a game for children ages 2-4. The game teaches kids about different kinds of foods and also works on their memory skills. I got a chance to work with some really talented artists and programmers to put this together.
Go Go Mongo! uses the accelerometer on the iPhone/iPod Touch. By tilting the device, Mongo runs left or right and he has to catch the correct food falling from the sky. The game is designed to teach 2 year olds names of different foods, tests their memory, and also helps improve their motor skills (tilting the iPhone to catch things is actually somewhat difficult for a 2 year old).
The APP just got approved by Apple! Here is the link:
http://itunes.apple.com/us/app/go-go-mongo/id426619300?mt=8&ls=1
I'm hoping you all can provide some feedback?
Promotional/gameplay video can be found
here
:
Youtube link
|
Pop Up
And here are some screenshots: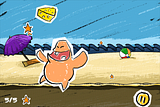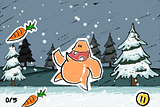 ---
Last edited by Mongo_A; 03-31-2011 at

10:18 AM

. Reason: Consolidated information